Clark Meets With PSA Group as U.K. Prepares Auto Industry Plan
By
Business Secretary will raise concerns about more job cuts

New funding announced for Ford, Jaguar, GKN projects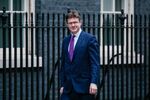 Business Secretary Greg Clark will meet with PSA Group Chief Executive Officer Carlos Tavares on Wednesday seeking reassurances on the automaker's U.K. manufacturing, as the government published a plan to provide the industry with confidence in Britain after Brexit.
Clark will raise his concerns about the future of PSA's Ellesmere Port site in his meeting today with Tavares, according to an offiotcial who declined to be further identified talking about a private meeting. The Unite Union Monday said workers at the site, which makes the Vauxhall Astra model, were advised of an additional 250 job cuts there, on top of 400 announced in October.
The meeting coincides with more details of a long-term plan that ties together 2 billion pounds ($2.7 billion) of government and private investment designed to retain automakers weighing whether to maintain manufacturing plants in the U.K. after the country leaves the European Union.
It's part of Prime Minister Theresa May's strategy to "get the whole economy firing." Business Secretary Greg Clark said that means getting self-driving cars and battery technology developed in the U.K. and to move the industry away from fossil fuels.
The government said it would plow 26.4 million pounds, match-funded by industry, into low-carbon vehicle projects by GKN Plc, Ford Motor Co. and Jaguar Land Rover Ltd. Another 32 million pounds was set aside to increase the competitiveness of the domestic supply chain. The deal also ties together almost 2 billion pounds of programs, including:
500 million pounds over the decade through 2023 to research new low-carbon automotive technologies. Match-funded by another 500 million pounds from industry.
225 million pounds, match-funded by industry, to support research and development in the industry from 2023 through 2026
246 million pounds toward the design and manufacture of batteries to help the electrification of vehicles
250 million pounds of government investment in developing driverless cars
Before it's here, it's on the Bloomberg Terminal.
LEARN MORE