Catalan Separatists Rally Behind Puigdemont for President
By
ERC still has doubts if Puigdemont can take office in exile

Ousted leader plans to be sworn in remotely to avoid arrest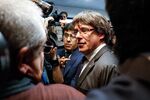 Catalonia's two main pro-independence parties agreed to support ousted regional president Carles Puigdemont's bid for a second term in office to mount a new challenge to Spanish Prime Minister Mariano Rajoy.
Puigdemont fled to the Belgian capital in October as Rajoy fired his government and dissolved Catalonia's parliament after it illegally attempted to declare independence. After the separatists again won a slim majority in regional elections last month, he is exploring ways to take office without returning to Spain, where he faces arrest as a judge explores whether the independence push amounted to a "rebellion."
Puigdemont may ask another deputy to speak on his behalf in a parliamentary session to appoint the region's new president, said Jordi Xucla, a lawmaker of Puigdemont's PDeCat party. Marta Rovira, secretary general of the other main secessionist party ERC, met Puigdemont in Brussels last night to agree on the strategy.
"It will be perfectly possible for Mr Puigdemont to present his program remotely or in a written manner -- we'll see in the coming days," Xucla said in an interview with Spanish state broadcaster TVE on Wednesday. "That is possible according to parliament bylaws."
A spokesman for Puigdemont said by text message that the accord meant the new parliamentary term could proceed with him as president. However, an ERC official said that while the party supports Puigdemont's bid its legal advisers are assessing whether it will be possible to take office without returning to Catalonia.
The three separatist parties won 70 out of 135 seats in the elections held on Dec. 21. The chamber is scheduled to hold its first session Jan. 17, during which it will try to elect the parliamentary board that decides on its agenda. The separatists parties also have an agreement in place to secure a majority on that body, Xucla said.
Once the board is elected, candidates for regional president have 10 days to submit their nominations. Pro-Spain parties led by Ciudadanos say that Catalan parliamentary rules don't allow for a president to be elected if he isn't physically present.
"Mr Puigdemont cannot be president by hologram," Ines Arrimadas, the leader of Ciudadanos in Catalonia, told broadcaster Telecinco. Ciudadanos won the most seats of any party in December but other parties including the Socialists and Rajoy's People's didn't get enough support to make a pro-Spain government in Catalonia feasible.
CUP, another separatist group, is also willing to support Puigdemont once his strategy to be elected is clear, Natalia Sanchez a lawmaker for the group told Catalunya Radio. The pro-independence bloc needs the support of CUP, which won four seats in the election, for a majority.
Before it's here, it's on the Bloomberg Terminal.
LEARN MORE