EU Gas Feels Dutch Tremors as Biggest Field Proposes Further Cut
By , , and
Prospect of further cuts boosts prices in Netherlands, U.K.

Field operator NAM proposes shutting some gas field clusters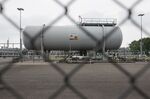 The tremor that rattled windows in a densely populated part of northwest Europe this week also shook the production plans for the region's biggest natural gas field and market prices.
Nederlandse Aardolie Maatschappij BV, a venture between Royal Dutch Shell Plc and Exxon Mobil Corp. that previously appealed Dutch government decisions to cut production from the Groningen field, on Wednesday proposed a "substantial reduction" in output. It also suggested shutting in two of the field's four areas, which accounted for about 5 percent of last year's total output.
The proposal, which sent wholesale prices higher and will need to be finalized by the Dutch government, comes after an earthquake on Monday measuring 3.4 on the Richter scale linked to extraction in the region, the biggest tremor since August 2012. The number of earthquakes linked to gas production had been waning after previous output cuts.
"Output needs to be lowered. The question is how quickly it can be done," Eric Wiebes, the economy minister who's also in charge of the nation's gas production, said late Wednesday at a New Year's event in Groningen. "We need to look at how it can be done at the quickest pace possible."
QuickTake Q&A: Earth-Shaking Woes at Europe's Biggest Gas Field
Parliament will debate the earthquake and gas extraction next week. The issue of damage to housing from gas extraction won't be resolved at short notice and "miracles" shouldn't be expected, Wiebes said.  
Gas for the winter of 2018-19 in the U.K., a European benchmark, jumped 2.2 percent Wednesday on the ICE Futures Europe exchange, its biggest daily increase in a month, and was little changed on Thursday. Winter gas in the Netherlands rose 1.2 percent Thursday, extending its weekly gain to 3.2 percent, broker data compiled by Bloomberg show.

The Economy Minister should shut in six of Groningen's 20 clusters, NAM said in a statement. The areas produced a total of 1.2 billion cubic meters of gas last year, NAM data show.
"Production has been reduced significantly over the past three years," said Angela Miller, a trader at Inenco Group Ltd. in Lytham, England. "Further production cuts would bring security of supply issues into play but the Netherlands has to weigh this up against environmental concerns."
While the field is now allowed to produce 21.6 billion cubic meters (760 billion cubic feet) a year, or about half the level in 2014, the four parties in the ruling coalition government already agreed to further cuts. Groningen is important because it produces a less rich form of gas that networks from France to Germany rely on and that isn't easily replaced without special converter facilities.
Dutch Groningen Gas Field Production Plan Ruled Insufficient
The Netherlands would have to resort to other supply sources to make up for the further decline in production.
"If we cut production at too short notice, we will end up watching our televisions at 6 degrees Celsius (43 Fahrenheit)," Wiebes said Wednesday.
— With assistance by Joost Akkermans, and Wout Vergauwen
Before it's here, it's on the Bloomberg Terminal.
LEARN MORE