Banks Get Shot in Arm From Treasury Rout as Goldman Says Buy
By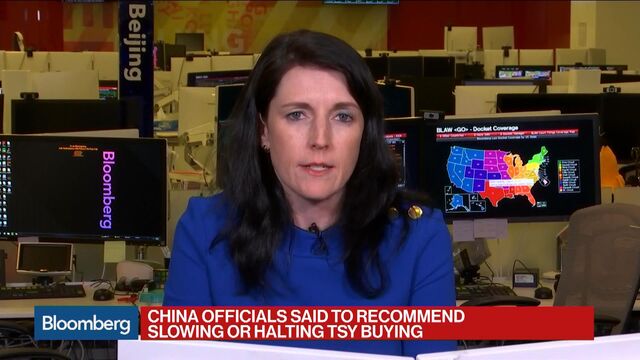 Bank bulls can rejoice. A wave of government-debt selling is spurring love for the stocks that suffered some of the biggest blows in a world of record-low interest rates.
U.S. banks on Wednesday rallied to their highest since September 2007 as Treasuries plunged. In Europe, a seventh session of gains pushed a gauge of lenders to a level last seen in 2015, and Asian financial stocks climbed to a decade high.
Investors are speculating that rising yields, or a steeper curve, will help banks generate more profits as they tend to borrow short term and lend long term. Higher yields may also reflect better economic growth, which spurs demand for loans from companies and consumers. While a selloff in bonds may be a risk for equity investors, financial stocks across the world are a good bet for 2018, says Goldman Sachs Group Inc.
"We like financials in all of the major markets," Peter Oppenheimer, chief global equity strategist at Goldman Sachs, said in an interview with Bloomberg TV's Matt Miller in Frankfurt. "We think they're not only a positive and levered play on growth, but will benefit a lot from a shift higher in interest rates or steeper yield curves."

Goldman Sachs says stock markets in general may be vulnerable to faster-than-expected changes in monetary policy, predicting the Federal Reserve will hike interest rates as many as four times in 2018.
Banks bucked the overall equity-market trend on Wednesday, with the S&P 500 Index and the Stoxx Europe 600 Index down 0.3 percent or more as people familiar with the matter said officials in China have recommended slowing or halting purchases of U.S. Treasuries. Benchmark 10-year note yields, which were already on the rise this week, climbed to the highest since March after Bloomberg reported the discussions.
Not all strategists are as positive on lenders, in Europe at least. The first half of 2018 will be "trickier" for those shares, with risks including cost-driven profit warnings, new rules for non-performing loans and the possibility that expectations for income growth are too high in some countries, UBS Group AG said last week.
— With assistance by Blaise Robinson
Quotes from this Article
Before it's here, it's on the Bloomberg Terminal.
LEARN MORE