markets
Bill Gross Calls a Bond Bear Market After Treasury Yield Surges
By
Treasury benchmark at highest since March has traders nervous

Looming supply glut from sovereign issuers damps sentiment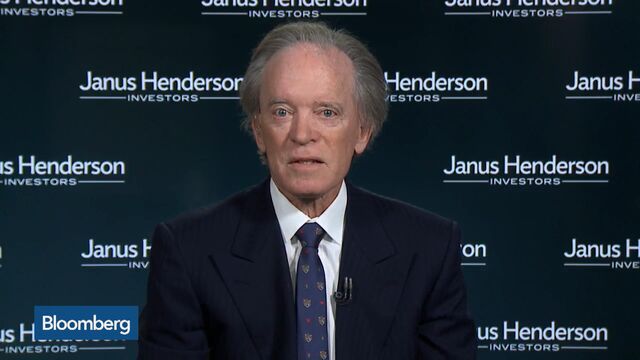 The 10-year U.S. Treasury yield climbed to the highest level in about 10 months, leading Bill Gross at Janus Henderson Group to declare a bond bear market just as a deluge of debt sales began.
The benchmark U.S. yield rose seven basis points on Tuesday to top 2.55 percent for the first time since March, and the Treasury curve steepened the most in over a year, as a looming glut of bond supply from the U.S., the U.K., Japan and Germany coincided with a surprise cut in purchases of long-dated Japanese government bonds by the Bank of Japan. The securities steadied on Wednesday.

Even though central bank watchers said the BOJ's actions aren't interpreted as an imminent shift from ultra-accommodative policy, it's yet another sign of central banks stepping back from global bond markets -- just as the U.S. Treasury is about to sell the most debt in eight years. Add to that rising market expectations around inflation, and traders are starting to wager that Treasuries are on the verge of a big breakout from their tightest range in a half-century.
"We're seeing a lot of overseas buyers who would come in every time we'd have a move close to these levels who aren't coming in anymore," said Michael Franzese, New York-based head of fixed-income trading at MCAP LLC, a broker-dealer. "That's kind of scaring me a little bit. One eye is constantly on the exit button."
The 10-year yield was little changed at 2.5476 percent at 9:24 a.m. London time on Wednesday.
The yield curve from two to 10 years steepened by six basis points on Tuesday, the most since November 2016. DoubleLine Capital chief investment officer Jeffrey Gundlach said markets had not priced in shrinking central bank balance sheets. The billionaire bond manager said after the market closed that the 10-year yield could head higher if it traded past last year's high of 2.63 percent with 3.25 percent "plausible" some time in 2018.
Gross's Call
"Bond bear market confirmed," Gross said in a Twitter posting on Tuesday, noting that 25-year trend lines had been broken in five- and 10-year Treasury maturities. The billionaire fund manager at Janus said last year that 10-year yields persistently above 2.4 percent would signal a bear market, though added in an interview last week that even in such an environment, investors probably won't lose a lot of money.
Of course, several money managers have been premature in calling the end of the three-decade bull market in Treasuries over the years. And others have a higher yield target. Scott Minerd, who oversees $250 billion as chief investment officer of Guggenheim Partners, said in an email Tuesday that the long-term trend for bonds remains in place until the 10-year yield exceeds 3 percent. Even in that scenario, yields may drop one final time, he said.
Semantics of a bear market aside, the more pressing issue for traders is the more than $60 billion in combined bond sales by the U.S., the U.K., Japan and Germany set to take place this week, which may test the appetite of investors for debt at current levels. American companies on Tuesday also issued the most investment-grade debt this year.
Auction Slate
The U.S. saw above-average buyside demand for its $24 billion three-year note sale Tuesday, though some strategists predicted increased appetite since the maturity yields the most in a decade. The next hurdle comes Wednesday, when Treasury auctions $20 billion of 10-year notes.
U.S. sovereign issuance is expected to rise broadly in 2018 on the back of the budget deficit and recently passed tax legislation. Meanwhile, support for lower yields may wane as the Federal Reserve reduces its balance sheet and other central banks contemplate exit strategies.
The Bank of Japan's decision to trim its regular purchase of longer-dated debt sparked some nervousness among traders and helped spark the move higher in U.S. yields. While investors are right to expect a longer-term shift toward normalization by the BOJ, the most recent move by the central bank doesn't have any new policy implication, said Junko Nishioka, chief economist at Sumitomo Mitsui Banking Corp. in Tokyo and a former BOJ official.
Yields kept rising higher as investors ramped up bets on quicker inflation. The 10-year breakeven rate, a proxy for the annual inflation rate the market expects for the next decade, climbed Tuesday to as high as 2.05 percent, the highest in 10 months. The increase shows traders may be bracing for Friday's consumer price index data, which some see as the final hurdle to elevated Treasury yields.
Yet even if they keep climbing, the consensus is for 10-year yields to remain below Minerd's 3 percent line in the sand for a bear market. The median forecast in a Bloomberg survey calls for the rate to climb to 2.92 percent at year-end.
— With assistance by Stephen Spratt, Anooja Debnath, and John Gittelsohn
(
Updates with Wednesday's prices.
)
Before it's here, it's on the Bloomberg Terminal.
LEARN MORE