The North Koreans Come In From the Cold
By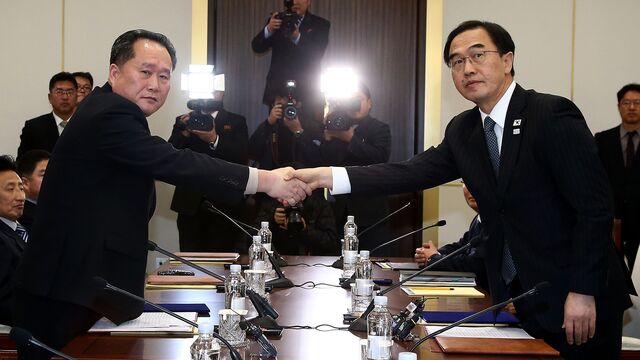 Want to receive this post in your inbox every morning? Sign up for the Balance of Power newsletter, and follow Bloomberg Politics on Twitter and Facebook for more.
The North Koreans will be crossing the border to attend next month's Winter Olympics. Whether that brings them closer to the negotiating table with the U.S. is anyone's guess.
North Korea agreed today to send a delegation to South Korea's Pyeongchang Games in their first high-level meeting in more than two years. While the presence of North Korean figure skaters bodes well for the Olympics, Kim Jong Un's negotiators gave no hint they'd discuss abandoning his prized nuclear weapons program as U.S. President Donald Trump demands.
Indeed, the North Koreans displayed only confidence in the global spotlight, suggesting their meetings in a frosty border village be televised. "It wouldn't be exaggeration to say that inter-Korean relations have been frozen more than the natural weather," delegation chief Ri Son Gwon joked.
Such swagger highlighted the underlying risks. Kim may exploit South Korean President Moon Jae-in's desire for reconciliation and draw him away from Trump's harder line. There's also the danger of Kim testing another bomb after the Olympics or things unraveling after allied military drills restart on April 1.
It's unclear whether Trump and Moon can afford to let three months slip by. But they've decided the Olympics present an opportunity that can't be missed.
Global Headlines
Trump's Mueller moment? | Special Counsel Robert Mueller has raised with Trump's legal team the possibility that his investigators will seek to interview the president, the Washington Post reports. Trump believes cooperating would end questions about whether his campaign coordinated with Russia, the paper says. His attorneys are said to be debating how to avoid a sit-down encounter and set limits on such a session.
Hostage talks | A Republican senator has accused Democrats of holding a bill to prevent a government shutdown "hostage" until they're assured that as many as 800,000 undocumented children won't be deported. Texan John Cornyn said he doubts lawmakers can meet the Jan. 19 deadline, as Democrats demand the extension of a popular Obama-era program. For his part, Trump is pushing a U.S.-Mexico border wall and an end to family-based immigration policies.
U.K.'s botched reshuffle | Prime Minister Theresa May's attempt to give her government a reboot turned to farce after one minister quit rather than be moved, while another managed to talk his way out of a demotion. Unable to exercise her authority, the chaotic cabinet reshuffle bodes ill for her ability to successfully navigate Brexit talks as they enter a tricky phase.
Berlusconi risks | With polls suggesting Italy's three main blocs will fight themselves to a standstill in March 4 elections, the threat of political instability is on the rise. Economic Development Minister Carlo Calenda issued a warning on the risks in a Bloomberg Television interview, slamming the programs of both former Premier Silvio Berlusconi and the Five Star movement as "dangerous" and a threat to Italy's economic progress.
Imprisoned princes | Eleven princes, including the sons of the chairman of Saudi Arabia's biggest dairy company, are said to be among those detained last week for what authorities described as an unlawful protest over the government's decision to stop paying their utility bills, a Bloomberg exclusive reveals. The official account of the arrests was challenged by another prince. Crown Prince Mohammed bin Salman earlier held dozens of princes for alleged corruption in a move widely seen as consolidating his power.
And finally... Abdel-Fattah El-Sisi may end up being the only candidate in Egypt's upcoming presidential election now that he no longer has to worry about facing former prime minister Ahmed Shafiq. After announcing his plans to run, Shafiq mysteriously disappeared — his family feared he'd been kidnaped — only to re-surface, tweeting on Sunday he'd had a change of heart. The election will be held March 26-28 and potential nominees have until Jan. 29 to register.

— With assistance by Tarek El-Tablawy, and Michael Winfrey
Before it's here, it's on the Bloomberg Terminal.
LEARN MORE