South Africa Lawmakers' Committee to Meet on Impeachment Rules
By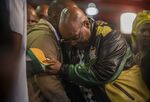 A South African parliamentary committee will hold two days of meetings to deliberate on rules to deal with the removal of a president.
On Dec. 29, the country's top court found that parliament had failed to hold President Jacob Zuma to account for his role in a scandal involving the misuse of public funds on his private home and ordered it to draft rules governing the circumstances under which he could be removed from office.
The subcommittee on the review of the National Assembly rules will meet Wednesday and Thursday about the procedure for implementing section 89 (1) of the constitution, which concerns the removal, it said in an emailed statement Tuesday.
Before it's here, it's on the Bloomberg Terminal.
LEARN MORE