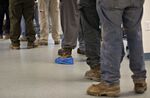 One of the biggest, if not the biggest, questions for the oil market in 2018 is just how much more oil the U.S will deliver.
Jobs data are backward looking, and lag by a couple of months to boot. Even so, they suggest the  exploration and production sector was accelerating rather than slowing down into the end of the year. By November, total payrolls had topped 413,000, according to preliminary figures released by the Bureau of Labor Statistics last Friday. That's still roughly 122,000 fewer than before oil prices started crashing in late 2014. But it was the 13th consecutive month of expansion and took the E&P's roster back to where it was in early 2016.
Hiring has been focused almost exclusively on the lower-paid support workers in rig and fracking crews, rather than higher-paid staff such as petroleum engineers classified as "extraction" employees by the BLS. Apart from headcount, this has shown up in wage inflation ...
... and the length of the work-week: Support staff clocked in more than 50 hours a week on average in November, the highest on record.
While hiring is a welcome sign of recovery, it also raises the specter of cost-inflation. E&P investors have fretted for a while about this headwind to profits, while oilfield-services investors have longed for it.
Labor does appear to be tight in the shale patch, in part because some workers laid off in the crash are steering clear of the industry. Unemployment rates in the Permian petroplex of Midland and Odessa, as well as North Dakota -- home to the less-hot Bakken shale -- are extremely low:
In the Dallas Fed's latest quarterly energy survey, released in late December, the indexes for hiring, employee hours and wages all jumped. These measure the percentage of survey firms reporting an increase less those reporting a decrease:
Helping to offset these pressures, however, is the oil price.
I calculate a very back-of-the-envelope estimate of how much E&P revenue goes to wages. It's theoretical, based on overall production multiplied by average monthly oil and gas prices and the number of workers multiplied by average hours and wages. So don't plug into a model or anything like that. However, it does suggest that, as of November, the rally in oil prices since the summer had started to have an impact in offsetting the rising wage bill:
And oil prices have continued to rise since then: All else equal, that estimated wage bill in November would have been a full percentage point lower using oil and gas prices so far in January.
Benchmark West Texas Intermediate crude oil has averaged $61 and change per barrel since the start of the year. Any oil producer able to access pricing at the Gulf coast, such as in Houston, has been getting more like $65 or $66 (see this for a details on price differentials).
Oil and gas executives from 125 companies were asked in that same Dallas Fed survey about the oil price at which they expected to see a substantial increase in the number of rigs drilling. More than 40 percent cited a range of $61 to $65 a barrel. Another 31 percent went for $66 to $70.
Given all this, it is little wonder that shares in oilfield services contractors, so beaten down last year, have been the fastest out of the gate in 2018.
The picture that emerges is of an E&P sector that, despite protests of reining in activity to focus on returns, is still wedded to that growth impulse as long as prices support it.
For now, with hedge funds having piled into near-term futures and OPEC continuing to do its part to inflate prices, those prices are accommodating more activity and absorbing some cost inflation along the way.
The obvious risk here is that current exuberance sparks a bigger-than-expected increase in U.S. production, kicking off the next downswing. Certainly, E&P companies' hiring, and hedging, suggest the foundations for this scenario are in place. Cost pressure, particularly for labor, is a big potential obstacle to this. For now, though, the momentum is hard to deny.
Before it's here, it's on the Bloomberg Terminal.
LEARN MORE