Poland's Ruling Party Shakes Up Cabinet After EU Sanctions Threat
By and
Morawiecki announces changes before traveling to Brussels

Popular at home, government criticized abroad for court revamp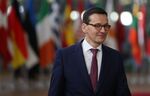 Poland's prime minister shook up his cabinet, replacing almost half of an administration that has drawn the threat of European Union sanctions just hours before he traveled to meet the bloc's president in Brussels.
Premier Mateusz Morawiecki, named last month halfway through the government's four-year term, announced new leaders for 10 portfolios on Tuesday, including finance, defense, and foreign affairs. Morawiecki, whose economic program has helped propel the government's popularity to as high as 50 percent in some opinion polls, was slated to meet Jean-Claude Juncker in the evening.
"The crucial question is weather the approach of Morawiecki will change," said Olgierd Annusewicz, a political scientist at Warsaw University. "To be able to speak about a new opening of relationship with EU we should be looking at real issues, such as the judicial overhaul, and that's where things aren't changing."
The shakeup may be an attempt to mend ties with the commission, which called last month for EU member states to begin the process of sanctioning Poland for a judicial overhaul that has given politicians more control over the courts. The decision -- the first time the bloc has ever recommended such measures against one of its members -- is a shot across the bow for governments such as Hungary's, where Prime Minister Viktor Orban has rolled back the liberal values underpinning the world's largest trading club.
A worst-case scenario for Poland could lead to the country of 38 million losing its voting rights. Orban has vowed to protect his ideological ally, however, saying Hungary will prevent other EU states from achieving the unanimous vote they'd need to strip Poland of its ability to take part in decision making.
Still, as the EU gears up for talks about its post-2020 budget, leaders including French President Emmanuel Macron have suggested that countries that don't uphold democratic values could lose billions of euros in aid -- a potentially devastating threat to Poland, which is the largest net recipient of the bloc's development funds.
Half Out
Witold Waszczykowski, who warned that the EU may fall apart if it tries to integrate some nations faster than others and called Brussels' criticism over the rule of law "harassment," was replaced as foreign minister by his former deputy, Jacek Czaputowicz. Henryk Kowalczyk became environment minister, replacing Jan Szyszko, who clashed with the EU over the logging that threatens protected species and habitats the Bialowieza forest -- one of Europe's oldest -- and triggered a court case against the bloc's largest eastern member.
Still, Justice Minister Zbigniew Ziobro, who oversaw the court overhaul that led the EU to warn that the government posed "a clear risk" to democracy, kept his job.
"The revamp and dismissal of the foreign minister and the environment minister is a gesture toward Brussels, a public relations move to give the government a more EU-friendly image," said Anna Materska-Sosnowska, a political scientist at Warsaw University. "Will it work? I don't think so, because a deeper change of policies is needed to improve the relations. And that doesn't look likely."
Continuity prevailed in economic policy, Morawiecki's main responsibility before his ascension to the premiership. His former deputies were promoted to lead key ministries, with Teresa Czerwinska taking over finance and Jerzy Kwiecinski now in charge of development.
"The new cabinet members are here to find the best ways for Poland to develop within strong European Union of sovereign nations," Morawiecki said.
— With assistance by Piotr Bujnicki, and Ewa Krukowska
Before it's here, it's on the Bloomberg Terminal.
LEARN MORE