Peru President Reshuffles Cabinet to Stem Political Crisis
By
Finance minister, cabinet chief remain in their posts

President lost allies after pardoning former autocrat Fujimori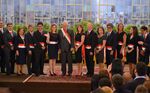 Peru's President Pedro Pablo Kuczynski reshuffled his cabinet in a bid to breathe new life into his moribund government after his decision to free former autocrat Alberto Fujimori from jail sparked a wave of criticism.
Kuczynski swore in nine new ministers at the presidential palace in Lima Tuesday. Cabinet Chief Mercedes Araoz and Finance Minister Claudia Cooper remain in their posts while Cayetana Aljovin moved to the Foreign Ministry after five months heading the Energy and Mines Ministry.
The president's decision to pardon Fujimori on health grounds on Dec. 24, three days after he narrowly survived an impeachment effort by Congress amid corruption allegations, has increased the disarray in his 17-month old centrist government. A host of government officials including two ministers resigned while leftist parties are considering a fresh impeachment motion alleging the pardon is the result of a deal with a small group of lawmakers loyal to Fujimori and should be struck down by the courts.
Read more: How to Impeach a President, Peruvian Edition: QuickTake Q&A
"The last 30 days have probably been unprecedented in our political life," Kuczynski said after the swearing in ceremony. "We're going through tense times, but we should strive for understanding to return stability to the country."
'Confrontation' Remains
Opposition parties snubbed the president's goal of forming a more politically diverse cabinet. New Labor Minister Javier Barreda and Health Minister Abel Salinas were both expelled from the Apra party as punishment for joining Kuczynski's cabinet, Canal N reported.
"However good the new cabinet might be, the problem of political confrontation in Peru is still there," said Luis Benavente, director of Vox Populi, a Lima-based polling firm.
Three congressmen quit Kuczynski's Peruvians for Change party after he pardoned Fujimori, leaving him with 15 lawmakers, out of a total 130 seats in the unicameral Congress. They allege that the president's decision was politically motivated and that a pardon on health grounds is unwarranted. Peru's largest trade union, the CGTP, will be among groups planning to march in Lima on Jan. 11 in protest at the pardon.

With leftist lawmakers opposed to last month's impeachment enraged by the pardon, his political future may rest in the hands of the Fujimori family. While Fujimori's eldest daughter, Keiko, leads the largest party in Congress and sought Kuczynski's removal, her effort was thwarted by a breakaway group of 10 lawmakers loyal to her father and led by his youngest son, Kenji.
Analysts' Read
The cabinet shake up is unlikely to be a lasting solution for the 79-year-old former investment banker who is mired in the country's worst political crisis since Fujimori was forced out in 2000 amid a corruption scandal. The former strongman was convicted in 2009 for ordering two massacres by government-linked death squads and also received sentences for kidnapping, embezzlement and bribery.
Here's what analysts are saying about the current political situation:
Verisk Maplecroft analyst Eileen Gavin:
"In addition to its legislative control, Fujimorismo arguably now has de facto executive control. The big question is whether the elderly and allegedly infirm patriarch, Alberto, will force his bickering offspring and rival political heirs - Keiko and Kenji - to put aside their differences and unite under one party leader."
"Given Kuczynski's extreme weakness, Peru could see an early election. Much will depend on political calculations by the Fujimoristas - and the popular reaction of the electorate. An election at this point would see a massive anti-Fujimorista movement, led by the radical left and heavily youth-backed, and potentially accompanied by an upsurge in civil unrest."
Teneo Intelligence senior vice president Nicholas Watson:
"Legal challenges against the pardon appear likely. If the pardon were to be struck down, Kuczynski's predicament would be even worse because he would probably lose Kenji Fujmori's support while being unable to recoup the support of the Left. If the president is counting on a stable support arrangement from a new Kenji Fujimori-led congressional bloc, this is risky."
"The main scenario by which a schism materializes would be if Keiko is enveloped in Odebrecht-related corruption investigations that permanently taint her leadership of Popular Force, and hasten defections to her brother's camp."
Eurasia Group analyst Maria Luis Puig:
"The risk of a worsening political crisis and Kuczynski's uncertain tenure will weigh on private investment decisions and the government's ability to push for projects in the pipeline."
"Low political capital will also prevent the Kuczynski administration from advancing major reforms that could prove unpopular, forcing it to focus on the execution of already approved measures or to seek the passage of economic policy initiatives that do not generate controversy."
Before it's here, it's on the Bloomberg Terminal.
LEARN MORE