MiFID Dealt Blow by EU's Surprise Delay of Dark-Trading Caps
By , , and
ESMA stock-limit data, due Tuesday, now slotted for March

Regulator blames incomplete data received from trading venues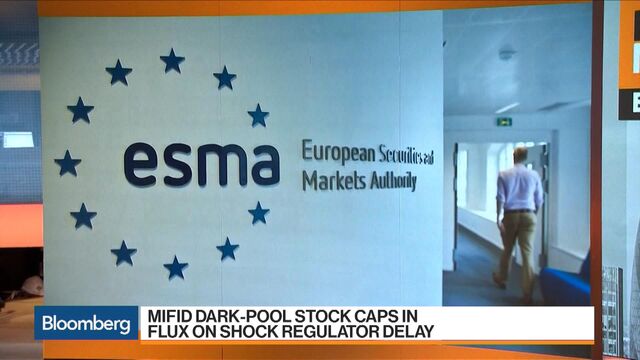 The European Union markets regulator announced a surprise delay until March of its plan to curtail the trading of potentially hundreds of stocks in dark pools under MiFID II, dealing a blow to a key pillar of the law.
The European Securities and Markets Authority late on Tuesday blamed incomplete data it received from trading venues for delaying its list of stocks that would have been caught by MiFID's dark pool caps. The partial data would have resulted in what it called "a biased picture" of the markets had the agency reported as expected on Jan. 9.
Read more about how looming dark-pool caps mean MiFID has yet to hit stock markets
The delay of the publication, which helps determine which equities would be subject to MiFID's limits on dark trading, means the planned Jan. 12 start date of the restrictions will now be pushed back. It's the latest setback to the start of the law after a one-year postponement and several last-minute reprieves.
"I find the delay of the double volume cap calculations disappointing," Markus Ferber, the lead lawmaker on MiFID II in the European Parliament, said in an emailed response to questions. Ferber said the requirements "shouldn't have come as a surprise to ESMA."
The dark limits were one of the most closely watched, and controversial, parts of the 7,000-plus page sweeping overhaul of European financial markets. Operators of alternative venues were poised to siphon trading from the dark pools -- so called because they can hide whale-sized buy and sell orders, which protects investors from tipping their hand to other traders.
"This requirement has been a long time coming, so it's somewhat surprising to see this delay," Duncan Higgins, head of electronic products at Investment Technology Group Inc. in London, said after the announcement late Tuesday. "Accurately bringing large amounts of data together from multiple sources is always a challenge."
European dark-pool operators Cboe Global Markets Inc. and London Stock Exchange Group Plc declined to comment.
MiFID II was intended to bring more trades on to public venues by placing limits on the portion of each stock that can be traded on dark pools -- stocks would have been suspended from the venues for six months or more if 8 percent of trading volume over the previous 12 months occurred in the pools.
ESMA said it will take weeks to iron out glitches. While 75 percent of trading venues have delivered information to ESMA, it has resulted in partial information for some stocks. ESMA, which said it only received complete market information for about 2 percent of what it had been expecting, said it intends to publish the data in March.
"The fact that by the due date ESMA only had 2 percent of the expected data volume at its disposal doesn't shine a good light on the preparations of the agency," Ferber said. "Now, ESMA has to do everything to close the data gap as quickly as possible."
ESMA received the vast majority of data from the trading venues last October -- every platform in the EU had to supply trading volumes for the first 10 months of 2017. The market-volume data sent to ESMA at the beginning of January was an update to October's giant data transfer.
The agency's delay is a silver lining for traders who have waited until the last minute to comply with MiFID.
"The delay does give some breathing room to anyone who wasn't fully prepared," Higgins said.
— With assistance by Will Hadfield
Quotes from this Article
Before it's here, it's on the Bloomberg Terminal.
LEARN MORE