Junk Spreads at 2007 Low Spark Wall Street Fear and Loathing
By
Nervous investors weigh exposure as rate normalization looms

Market may be in for a 'shock,' says Sage Advisory's Chavis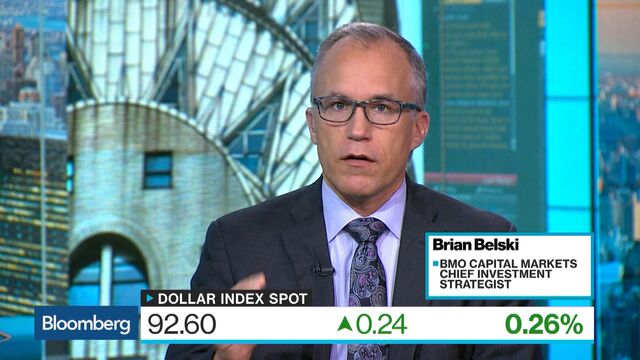 As the junk rally smashes past bullish year-end forecasts in first few trading days of 2018 alone, the clouds are gathering for a stormy second half of the year, according to nervous fund managers and strategists.
With spreads at 2007 lows, investors who've built up heavy credit positioning need to time their exits carefully: too soon and they've missed out on what could be the last gasp of the bull run. Too late, and they risk being saddled with outsize losses just as global monetary stimulus fades.
"It came pretty damn quickly," said Ken Monaghan, co-head of high yield at Amundi Pioneer, with $53.7 billion in assets. "Spreads can crank a bit tighter -- 20 to 25 basis points -- and then we're in coupon-clipping mode."
Monaghan is "more nervous" for the second half of the year, "especially if there's a concerted effort by central banks to put their foot on the brake."

A slew of strong economic data, intensifying risk appetite and fresh inflows into exchange-traded flows have helped bond prices on their latest leg up.
As the debate intensifies over whether valuations are driven by fundamentals or mindless liquidity, calls investors and strategists make this year could make or break Wall Street careers. Yields on 10-year U.S. Treasuries traded at the highest level in about 10 months Wednesday, with bond veteran Bill Gross declaring a bear market.
While Monaghan at Amundi is sanguine over current high-yield valuations, citing the strength of the business cycle, others are more bearish.
"There will be a crossover point later this year, probably the third quarter, where global quantitative easing turns to global tightening," said Zachary Chavis, bond portfolio manager at Sage Advisory Services, referring to investment-grade credit.
"At that time, there may be a shock, and it's anyone's guess where markets go," Chavis, whose firm manages $12 billion, said. "In the meantime, there's a good technical bid for paper. People think they can get out before the market turns."

The junk rally is one of capitulation, suggesting investors are waiting for the just the right moment to leave the party, said Jody Lurie, corporate credit analyst at Janney Montgomery Scott LLC, citing the jump in U.S. corporate leverage.
"The are plenty of people waiting to rush for the exits. Markets are at the point where they are very sensitive."

Noel Hebert of Bloomberg Intelligence puts it succinctly: valuations are divorced from balance-sheet reality.
"It's very difficult to tell where things are going to go. This isn't a world where fundamentals matter in any shape or form."
— With assistance by Adam Tempkin, and Robert Elson
Before it's here, it's on the Bloomberg Terminal.
LEARN MORE