Italy Joblessness Falls to Five-Year Low, Boosting Gentiloni
By and
Total Employed in November highest since record began in 1977

Youth joblessness declines to 32.7% from 34% in October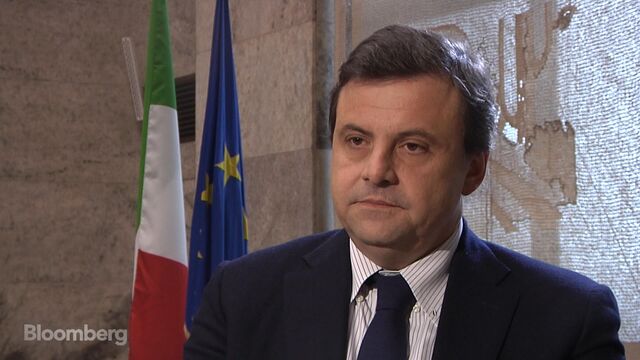 Italy's unemployment rate dropped to the lowest since September 2012, providing a much-needed boost to the ruling Democratic Party before the March general election.
Unemployment decreased to 11 percent in November from 11.1 percent the month before, the Rome-based national statistics office Istat said in a preliminary report on Tuesday. The rate matched the 11 percent median of 10 estimates in a Bloomberg News survey.
There were 65,000 more people employed in November compared with the month before, Istat said. The total number of employed Italians was the highest since 1977 when the research began. Youth joblessness declined to 32.7 percent from 34 percent in October.
The report comes as good news for Prime Minister Paolo Gentiloni's party and its center-left junior allies. They are trailing both the center-right bloc led by former premier Silvio Berlusconi and the anti-establishment Five Star Movement, according to recent opinion polls.
Businesses in the euro region's third-biggest economy grew more optimistic about the outlook for employment, according to the most recent manufacturing-confidence report released by Istat on Dec. 22.
Analysts have been cautioning that the expiration of tax benefits passed in 2014 for open-ended work contracts may lead to a round of firings.
To stem the increased use of fixed-term and part-time contracts, the government may consider a new round of incentives for businesses, Finance Minister Pier Carlo Padoan said in an interview with Corriere della Sera daily published on Sunday.
The country's main telecom company, Telecom Italia SpA will meet on Jan. 18 with union representatives to discuss a plan that foresees 5,000 job cuts over three years, newspaper Messaggero reported on Sunday without saying where it obtained the information. The plan also included 2,000 hires of young people and job retraining, Messaggero said.
— With assistance by Andre Tartar
Before it's here, it's on the Bloomberg Terminal.
LEARN MORE