Hyundai to Test Autonomous Driving With Fuel-Cell Vehicle
By and
Automaker is accelerating development of self-driving cars

Company plans to bring an autonomous model to market by 2021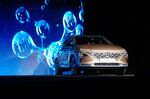 Hyundai Motor Co. said it will start testing a fuel-cell powered sport utility vehicle for autonomous driving as the South Korean automaker speeds up development of self-driving cars with a goal to bring a model to the market by 2021.
Unveiling the fuel-cell SUV named "NEXO" Monday at the CES in Las Vegas, Hyundai said the vehicle will be used to try out the driverless technology it is developing with Aurora, a startup formed by former executives from Google, Tesla Inc. and Uber Technologies Inc. The NEXO has a maximum driving range of 370 miles, about 40 percent more than the fuel-cell Tucson, the automaker said in a statement.
Late to the game, Hyundai is doubling down on efforts to catch up with leaders such as General Motors Co. and Volkswagen AG and hired an executive from Samsung Electronics Co. last year to lead the charge. The Seoul-based automaker plans to have more partnerships with technology companies to fulfill its ambitions of selling its autonomous models to fleet operators, mobility services and smart city projects.
"This vehicle is very important," Hyundai Motor Vice Chairman Chung Eui-sun said in an interview after the press conference. "Toyota is working very hard on this and BMW and Volkswagen are working very hard. We have to compete. We have a long way to go."
Samsung's Former Strategy Chief Takes on GM, Google in Robotaxis
Automakers and technology companies are tying up to stay ahead in the race for autonomous knowhow. On Sunday, Nvidia Corp. announced an alliance with Uber, the largest ride-hailing company, and Volkswagen to provide its artificial intelligence expertise to help bring self-driving cars to the roads. Uber's rival Lyft Inc. has partnered with self-driving software company Aptiv Plc on driverless ride-hailing service.
Hyundai is also betting on its new fuel-cell car, which will be sold in some markets this year, to help commercialize its autonomous driving technology. The carmaker wants to expand the lineup of its fuel-cell vehicles to sedans, trucks and buses, Senior Vice President Lee Ki-sang said in a speech at the event in Las Vegas.
Vice Chairman Chung said Hyundai is using a fuel-cell vehicle for its self-driving technology because the car processes so much data, which requires a lot of electric power. Fuel cells can generate more power than electric cars can carry in their batteries, he said.
For more on self-driving vehicles, check out the Decrypted podcast:
Before it's here, it's on the Bloomberg Terminal.
LEARN MORE