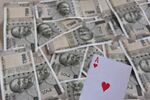 Six months ago, India's regulator had the brilliant idea of destroying a market it believed existed only for "naked speculation." Now's the time for hedge funds in Singapore to put on some clothes and plot their revenge.
Offshore derivatives in which the underlying securities are themselves futures contracts -- i.e., derivatives of Indian stocks -- were an $8 billion market at the start of last year.
Investors who couldn't be bothered to register in India could buy these participatory notes from banks that had access to the local market. India has held a caustic view of P-notes, considering them as nothing more than a vehicle for money-laundering. Because the issuers of these notes are subject to Indian regulations, officials could meddle with their supply. Using those powers, India banned P-notes backed by futures in 2007. However, after the fall of Lehman Brothers Holdings Inc. the next year, New Delhi wanted equity flows to return. So the ban was reversed.
Ten years on, things are back to square one.
After the Securities and Exchange Board of India announced its intention in a May 2017 consultation paper to stop foreign investors registered with it from issuing P-notes backed by stock futures by the end of 2020, the outstanding value of the contracts shrank to $5 billion. Then, in early July, Sebi went a step too far. Any offshore contract layered upon an onshore derivative that didn't explicitly hedge a cash equity exposure in India was to be scrapped upon maturity. 1  By November, the derivative-backed P-note market had dwindled to $800 million. The destruction was complete.
It was also unfair. When you think about it, existing anti-money-laundering rules are capable of dealing with such concerns, and can always be buttressed. As for naked speculation -- the charge Sebi leveled in its consultation paper -- a note written on exchange-traded futures is an efficient way for someone outside India to take a view (particularly a negative one) on a stock. Condemning the product made no sense.
Fortunately, investors won't have to take this assault lying down. Sebi wants money coming into India to participate in onshore markets, but that means putting up with a 33 percent business-income tax on futures trading. That handicap persists in Gujarat International Finance Tec-City, or Gift City, where investors have been permitted to buy dollar-denominated futures on both Indian and foreign shares. Besides, Gift is a work in progress. For the next five years, only traders who can't find jobs in Mumbai would consider living in a ghost town near Ahmedabad airport.
Both from a taxation and lifestyle perspective, Dubai offers a better alternative. The Dubai Gold & Commodities Exchange recently expanded its own suite of dollar-denominated futures on Indian stocks beyond the better-known names like Reliance Industries Ltd., State Bank of India and Infosys Ltd.
But while Dubai has enjoyed historical commodities trading links with India, those don't extend to the stock market. The overseas Indian equity buy-side is predominantly Singapore-based. Expect DGCX to be relegated to a sideshow if Singapore Exchange Ltd. decides to make a killing from Sebi's penchant for killing markets.
Singapore Exchange Ltd. could indeed be the next bourse to offer futures on Indian shares tracked by MSCI Inc. Futures on India's benchmark Nifty 50 Index are already very popular on the SGX. Open interest on the gauge is twice as high in Singapore as it is in its home market.
Individual shares shouldn't fare differently. A liquid market in SGX-listed stock futures, ensuring they closely mimic Indian prices, could make them an attractive proposition for heavy users of these products -- India-focused hedge funds. Besides, unlike with Nifty futures, which are licensed from India's National Stock Exchange, SGX doesn't need any permissions from India. It can start whenever it's ready.  
Investors already are. Nobody likes regulators who scrap markets once every 10 years.
The more Sebi equates policing with raw power, the less surprised it should be when Indian financial products go where regulations are more practical, and living conditions more amenable. (Gift City is in a "dry state," where alcohol is prohibited.)
Since that lesson can only be learned the hard way, Singapore should go ahead and launch those futures.
Before it's here, it's on the Bloomberg Terminal.
LEARN MORE