Five Things You Need to Know to Start Your Day
Get caught up on what's moving markets in Asia.
By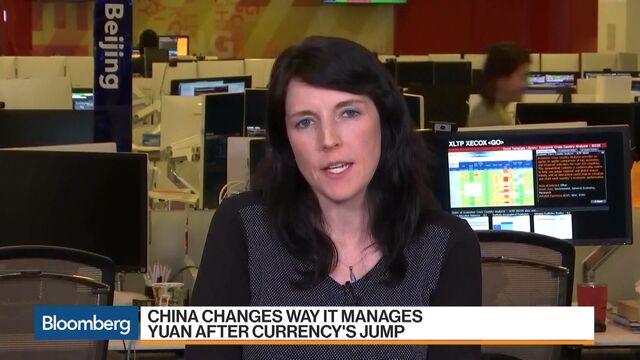 Want to receive this post in your inbox every morning? Sign up here.
Investors are still analyzing what China's reported yuan tinkering means for the currency, while UBS says Indian stocks won't make you money this year. And Korean talks got frosty after denuclearization came up. Here are some of the things people in markets are talking about.
Signaling Effect for Yuan
When news landed yesterday that China had reportedly tweaked the regime it uses to manage the yuan, the currency fell. But its weakness may have been less about any directional impact from the change and more about the signaling effect -- after all, the last time the yuan approached 6.5 to the dollar, in early September, policy makers removed a reserve requirement that made it harder for investors to bet against the Chinese currency, and the yuan indeed weakened in the following weeks. Also, against a basket of currencies, the yuan is trading near the top of the range it has held for the past 18 months. Investors may be worried that if the yuan continues to appreciate, the PBOC might take other steps to slow the pace of gains. Still, Citigroup Inc. strategists Lu Sun and Siddharth Mathur see the move as another step toward unwinding measures that were designed to contain yuan weakness, which could more firmly entrench the currency in a range.
Where Next for India Stocks?
The rally in India stocks this year is set to fizzle out, according to UBS Securities India Pvt. analysts led by Gautam Chhaochharia. The NSE Nifty 50 Index will close at around 10,500 points on Dec. 31, the analysts wrote in a note to clients, suggesting investors won't make any profits from the gauge of the nation's biggest companies. (The Nifty 50 closed at 10,637 on Tuesday.) "A goldilocks scenario of a sharp earnings recovery, but with continued robust macro stability (benign inflation and currency rates) appears priced in," Chhaochharia said in the report.  Don't tell that to  Mahesh Patil, who manages $6.3 billion in equities at Aditya Birla Sun Life AMC Ltd. The nation's fourth-largest money manager sees returns in the low-teens this year, boosted by a revival in company earnings, economic growth and renewed interest from local and global funds.
More Korean Talks Planned
North Korea's chief negotiator Ri Son Gwon struck a jovial tone as he sat down on Tuesday morning for his country's first formal talks with South Korea in more than two years. He joked about how the subzero temperatures reflected frosty ties and asked for the proceedings to be broadcast live -- a request that South Korea turned down. Yet as the day wore on, and South Korea proposed talks on ending North Korea's nuclear weapons program, the mood appeared to sour. Ri issued a "strong complaint" that Seoul dared to even raise the possibility of denuclearization at such an early stage.  All of North Korea's "high-end strategic weapons" are targeted at the U.S., Ri said at the conclusion of the talks Tuesday, according to South Korean media. Despite the frictions over nuclear weapons, the two sides also agreed on Tuesday to hold a military dialogue and resolve problems through negotiations. They plan to hold another round of talks, though haven't yet agreed on the exact date. Meanwhile South Korean President Moon Jae-in will hold a press conference this morning.
Semiconductor Sadness
The chip industry is having an off moment, as a sector index sputters near where its rally stalled out in November. After rising 6.6 percent over a five-day winning streak to start the year, the Philadelphia Semiconductor Index fell as much as 1.1 percent Tuesday as Samsung Electronics Co. reported profit that missed analysts' estimates and fallout continued over security flaws present in most processors. Microsoft Corp. said fixes for security flaws present in most processors may significantly slow down certain servers and dent the performance of some personal computers, the software maker's first assessment of a global problem that Intel Corp. initially downplayed. Microsoft's statement suggests slowdowns could be more substantial than Intel previously indicated. Microsoft, which didn't provide specific numbers, said it is testing a variety of systems and will update users on what it finds.
Bond Bear Market Is Nigh
The 10-year U.S. Treasury yield climbed to the highest level in more than nine months Tuesday, leading Bill Gross at Janus Henderson Group to declare a bond bear market just ahead of a deluge of sovereign debt sales. The benchmark U.S. yield rose as much as seven basis points to 2.55 percent, a level last seen in March, and the Treasury curve steepened the most in three weeks, as a looming glut of bond supply from the U.S., the U.K., Japan and Germany coincided with a surprise cut in purchases of long-dated Japanese government bonds by the Bank of Japan. U.S. stocks added to all-time highs before the start of earnings season, with the S&P 500 rising for a sixth day to start the year. Wednesday's Asia data docket features South Korean unemployment and money supply, Aussie job vacancies and Chinese inflation -- PPI and CPI.
What we've been reading
This is what caught our eye over the last 24 hours.
— With assistance by Ye Xie, Nupur Acharya, George Lei, David Tweed, and Kanga Kong
Before it's here, it's on the Bloomberg Terminal.
LEARN MORE