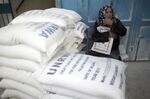 When U.S. President Donald Trump complained that Americans give the Palestinians hundreds of millions of dollars in assistance and get "no appreciation or respect" in return, attention turned swiftly to one obvious candidate for budget cuts: the United Nations Relief and Works Agency for Palestine Refugees. UNRWA, as the agency is known, has been accused by Israel and its supporters of giving cover for terrorists, fanning hostility against Israel and perpetuating the displacement of the very people it serves.
1. What is UNRWA supposed to do?
Created in 1949, UNRWA was established to provide emergency relief to some 750,000 Palestinians who fled or were forced from their homes in the war that followed Israel's declaration of statehood. Seven decades later, UNRWA provides food, shelter and schools for some 2 million Palestinian refugees across the Middle East in camps in the West Bank and Gaza Strip, Jordan, Lebanon and Syria. Israel is critical of how UNRWA operates but works closely with it to provide services to refugee camps in the West Bank and Gaza, reasoning that otherwise it would bear the responsibility as the power ultimately in control of those territories.
2. Is UNRWA anti-Israel?

As documented in a 2009 paper by a former general counsel to UNRWA, James Lindsay, the agency's mission morphed over the years from emergency relief to services such as education and health care, as it became clear that Palestinian and other Arab leaders wouldn't allow the refugees to be resettled. They aimed instead to keep them in camps as a symbol of resistance to Israel, and with the aim of securing their eventual return to the places they'd come from. As part of its mission, UNRWA eventually took on the cause of Palestinian political rights, and its leaders sometimes make statements supportive of Palestinians and critical of Israel.
3. How does Israel tie UNRWA to terrorism?
Its officials accuse the agency of being under the thumb of Hamas, the militant group that's controlled the Gaza Strip since 2007. In that time, Palestinians have launched more than 18,000 rockets and mortars from Gaza into Israel, and Israel says UNRWA facilities have provided cover for rocket launchers. Lindsay wrote it would not be surprising if some of the agency's 10,000 staff members in Gaza were involved in violence, given that they're drawn from a population in which support for armed action against Israel is strong -- 44 percent in a December poll -- but that the organization investigates and punishes staffers who break its rules. In its 2014 battle with Hamas, Israel shelled UNRWA facilities after Palestinians launched rockets from nearby areas; 44 Palestinians, including civilians who had taken shelter there, died in the shelling, according to the UN.
4. What is Trump's plan?
The U.S. ambassador to the UN, Nikki Haley, suggested that at least part of the more than $300 million UNRWA gets each year from the U.S. may be withheld if Palestinians refuse to participate in peace talks with Israel. Her comments came after Palestinian leaders threatened to boycott any talks orchestrated by the U.S., angered by Trump's Dec. 6 declaration recognizing Jerusalem as Israel's capital. Israeli Prime Minister Benjamin Netanyahu endorsed the withholding of funds and said UNRWA should be gradually dismantled, with its responsibilities transferred to the UN's Office of the High Commissioner for Refugees, which cares for all other displaced populations around the world.
5. What would that accomplish?
Israel has long complained that UNRWA, unlike UNHCR, allows unlimited generations of descendants, including those born in other countries or who have become citizens of other countries, to be classified as refugees in perpetuity. As a result, the number of Palestinians registered as refugees has grown to more than 5 million, according to the UN. A mass influx of such individuals is unacceptable to Israelis because it would threaten the Jewish majority in the world's only Jewish state. Israel argues that the agency's goal should be to rehabilitate and resettle the refugees in new homes, but that its present configuration serves to prolong the conflict.
6. How does UNRWA respond?
UNRWA spokesman Chris Gunness says "UNRWA management at all levels works tirelessly to promote the highest standards of neutrality." When staff members violate rules and regulations, he said, "disciplinary action is taken, up to and including dismissal." Gunness noted the agency had proactively condemned rockets that Palestinian militants placed in UNRWA schools and tunnels they built underneath, and said the organization's schools teach students UN values, human rights and conflict resolution. What perpetuates the refugee crisis is not UNRWA, Gunness said, but "the failure of the parties to deal with the issue."
7. How have Palestinians responded?
In peace talks, Palestinian negotiators have insisted that the millions of refugees must be granted a "right of return" to their place -- or their ancestor's place -- of origin, in what is now Israel. Since most Palestinians are no longer in refugee camps and have resettled in the U.S., Europe, the Persian Gulf and elsewhere, one of the biggest elements of peace negotiations has been offering monetary compensation to families of those who lost their homes more than half a century ago.
8. What would happen if the U.S. cut UNRWA funding?
It would hurt. The U.S. is by far the agency's biggest backer, contributing almost a third of its $1.25 billion budget in 2016. The European Union was the second-biggest donor. Saeb Erekat, the chief Palestinian negotiator, said that a U.S. cut to UNRWA's budget would "starve Palestinian children in refugee camps and deny their natural rights to health and education." Previous budget shortfalls have led UNRWA to reduce services in schools and hospitals, but didn't lead to instances of starvation.
The Reference Shelf
(A previous version of this story was corrected to reflect the proper death toll from 2014 shelling of UNRWA facilities)
Before it's here, it's on the Bloomberg Terminal.
LEARN MORE