politics
Christie's Glass Half Full in Departing Speech to Lawmakers
By
Two-term Republican leaving office with historic low approval

Incoming governor faces growing property taxes, pension burden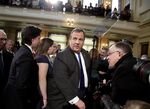 Chris Christie, making his final policy speech as New Jersey governor to lawmakers, said his tax cuts, spending reductions and pension reforms helped make the state "much better" than it was when he took office.
The Republican, who leaves office next week with historic low approval ratings, said he vetoed more tax increases than any governor in modern American history, and more New Jerseyans are employed today than ever. Still, the state's growing pension burden is "the sword of Damocles that hangs over the head of every New Jerseyan," he said.
"That problem will only be solved by making these benefits more realistic for both pensions and health insurance," said Christie, 55. "There are not enough taxes to raise or other programs to cut to feed the insatiable beast of public employee pensions and platinum-plus health benefits."
Christie's remarks were a veiled jab at his successor, Democrat Phil Murphy, who won the November election with financial backing of public-employee unions. Murphy, 60, has said any changes to benefits should be done through collective bargaining, not legislation. He has also promised to fund pensions, without saying how.
Big Crowd
The outgoing governor's speech, in the Assembly chambers with both legislative houses present, drew the biggest crowd in Christie's eight years as newly sworn lawmakers had invited well-wishers to attend their first session. As Christie made his way forward, Republicans and some Democrats stretched to shake his hand, and applause was prolonged once he got to the podium.
Governor-elect Murphy, who will take office next week, criticized Christie's presenting "a sunny picture of a state in good standing." Schools have been underfunded by $9 billion, he said in an emailed statement after the speech, while high earners benefited from Christie's vetoing a millionaire's tax and corporations scored deals worth billions of dollars in incentives.
"One week from today, New Jersey will turn the page to a bright new day," Murphy said.
Democratic leaders in the statehouse, in past years fiercely critical of Christie's annual policy speeches, said they appreciated his recognizing individual party members for what a divided government was able to accomplish, including pension savings and mandated quarterly fund payments by the state. Senate Majority Leader Loretta Weinberg, a Democrat from Teaneck with whom Christie often disagreed, called his words "full of grace and elegance."
When Christie gave his first State of the State in 2011, a year into office, he had already become a rising Republican star for his battles with public unions and his push for smaller government and lower taxes. In the years that followed, he heard a Ronald Reagan Presidential Library audience urge him to run for president, won praise for his leadership as New Jersey rebuilt after the state's costliest natural disaster and endeared himself to late-night television viewers with comedy skits about his girth and suburban Dad dance moves.
This time, the annual speech was from a politician at his nadir, his 2016 presidential bid snuffed by revelations of his administration's role in the George Washington Bridge scandal -- and his approval was about 15 percent in recent polls. In February 2013, his rating was 74 percent, the highest for any New Jersey governor in Quinnipiac University's 17 years of polling.
Christie came to office in 2010, the first Republican elected governor in Democratic-leaning New Jersey in a dozen years. He promised to boost jobs, end out-of-control spending and shore up a pension fund heading for insolvency.
In his initial State of the State, he trumpeted "the first steps in reforming our system of pensions and benefits -- saving state and local taxpayers hundreds of millions of dollars." With approval from the Democratic-controlled legislature, he enacted benefit cuts that year that shrank the state's unfunded pension liability.
Then the gap grew as he made partial contributions. Christie called for more worker concessions, but Democrats said he couldn't be trusted and wouldn't support him a second time.
Christie, speaking for almost 90 minutes, communicated none of his trademark vitriol for the legislature's ruling party. He warned, though, that public-worker unions, a fundraising powerhouse for New Jersey elective office, will continue to sway policy affecting pensions and property taxes.
"There are not enough taxes to raise or other programs to cut to feed the insatiable beast of public employee pensions and platinum-plus health benefits," he said. "Let me assure all of you of one other thing: No matter what you do, unless it is complete capitulation, you will be vilified by public union leaders."
Under Christie, New Jersey had a record 11 credit downgrades by the three major rating companies. Murphy, his successor and a Wall Street veteran, will take over a state with the highest property taxes, worst-funded pension system and a crumbling mass-transit network.
In Christie's waning weeks, lawmakers squelched another potential legacy moment, a 2 percent cap on the amount that police and firefighters can be awarded during contract disputes. Though a state panel found the seven-year-old law saved taxpayers almost $500 million, the legislature allowed it to expire in December, and Murphy hasn't taken a position on a possible revival.
Christie has insisted in past speeches and on Twitter that his policies changed the state for the better. "The Jersey Comeback," a theme of economic recovery that he touted at town-hall appearances, was retired after he dropped out of the presidential race. His Twitter posts now are met with users' put-downs: for New Jersey Transit's slipping bus and train service, his support of President Donald Trump, his family's frolicking on an Atlantic Ocean beach that was closed to the public during a budget shutdown.
"I'll miss being in the middle of everything," he said as he headed into the event.
(
Updates with Democrats' assessment starting in sixth paragraph.
)
Before it's here, it's on the Bloomberg Terminal.
LEARN MORE