business
Brexit Bulletin: Weak and Stable?
By
May appoints pro-EU minister to role as deputy

Reshuffle maintains balance of views in Cabinet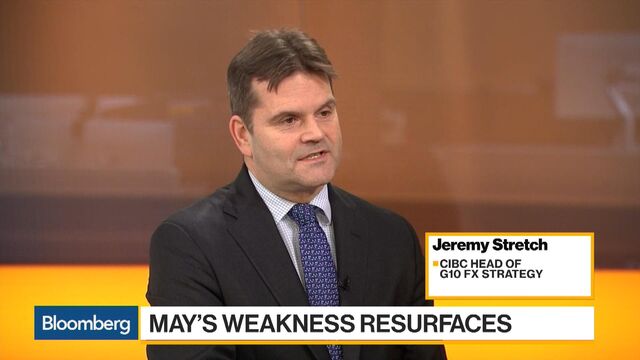 Sign up to receive the Brexit Bulletin in your inbox, and follow @Brexit on Twitter.
Theresa May reshuffled her pack, keeping the delicate Brexit balance of her Cabinet broadly unchanged even as she appointed a new deputy who is an ardent pro-European. But her failure to make ministers follow orders during the revamp heralds trouble ahead for a divided government going into the most difficult part of the Brexit process.
The main takeaway from a reshuffle that descended into crisis – and was criticized by colleagues – will be May's weakness. She failed to move Health Secretary Jeremy Hunt, who convinced her he should remain in his job with a beefed up title. The question now is how she will corral ministers into a common position on Brexit – and keep them there.

The next phase of talks promises to throw up hard questions that will further divide a fractious government. The Cabinet needs to decide in a couple of months what it wants to extract from Brussels in the final months of negotiations – and what concessions it's prepared to make to get that. This is the year when it will become clear what the U.K. gets in return for its £40 billion exit bill: If it's not what the Brexit-backers want – and the EU has said it won't be – calls to walk away could grow louder.
On the pro-Brexit side, Esther McVey was named work and pensions secretary, replacing a remainer. Generally, remainers did well in the reshuffle, though they replaced other remainers. David Lidington takes over as Cabinet Office minister and May's de facto deputy. He will stand in for May at prime minister's questions and chair Cabinet committees. He fought hard to keep Britain in the bloc in 2016 and served as Europe minister for six years, so has a network that may come in handy as Britain tries to find allies across the continent. Even former Chancellor of the Exchequer George Osborne praised some of the appointments.
One of the upsets of the night was Justine Greening's refusal to leave her job as Education Secretary. After a lengthy discussion inside 10 Downing Street she eventually resigned rather than take the alternative job May had on offer. She may now become another pro-remain voice in Parliament who feels no loyalty to the government.
Brexit Latest
Brokenshire Loss | The experienced James Brokenshire resigned as Northern Ireland Secretary for health reasons on Monday, just as the reshuffle got under way. His departure is a blow, as it means May has now lost the three Cabinet ministers with the greatest knowledge of working with the Democratic Unionist Party, her key allies in Northern Ireland. It was Brokenshire who stayed up late into the night last month persuading the DUP not to block the compromise that made the breakthrough deal with the EU possible, Tim Ross writes. Karen Bradley, a May loyalist, replaces him.
Betting on the City | Spain's Alantra Partners SA is considering moving its headquarters from Madrid to London in a bet the U.K. capital will remain the center of European business and finance even after Brexit, Sharon Smyth writes. The investment bank and money manager, which oversees €3.7 billion ($4.4 billion) of assets and employs about 350 staff in 21 countries, is weighing how many workers it might deploy in London if it completes the move.
EU Doesn't Get It | Nigel Farage met Barnier for about 30 minutes in Brussels and the former UKIP leader came away convinced the Frenchman doesn't understand why Brits voted to leave the bloc. "I really don't think he gets it," Farage said. "When I suggested to him that it might be something to do with open-door immigration in the European Union he almost looked at me with incredulity."
Italian Encouragement | Britain should be granted the "Canada plus plus plus" trade deal that Brexit Secretary David Davis has called for, Italian Economic Development Minister Carlo Calenda said in an interview. Calenda, a politically independent figure in the center-left government of Premier Paolo Gentiloni, told Bloomberg Television: "I think Canada plus plus plus will be the minimum that we need to achieve."

Barnier Meets Rutte | The chief EU negotiator will meet Dutch Prime Minister Mark Rutte and his ministers on Tuesday. The Netherlands is seen as a possible ally of the U.K., and one of the remaining 27 members keenest on getting a broad trade deal after the split.
Household Squeeze | Consumers curbed their spending for the first time in five years in 2017, according to a survey from Visa, while Halifax cited a squeeze on incomes as one reason for the decline in house prices last month.
Davis's Complaint | David Davis has consulted lawyers over the European Commission's planning for a no-deal Brexit, claiming the contingency preparations are harming U.K. businesses, the Financial Times reports. Davis said in a letter to May it will ask the Commission to revise its guidance to business.
And Finally
Aston Martin is targeting a valuation of as much as £5 billion ($6.8 billion) in a potential initial public offering for the iconic sports car maker this year. Any share issue would mark a significant test of investor appetite for English companies ahead of Brexit in March 2019.

For more on Brexit follow Bloomberg on Twitter, Facebook and Instagram
Before it's here, it's on the Bloomberg Terminal.
LEARN MORE