Billionaire Rennert Wants Lawyers to Pay $213 Million Award
By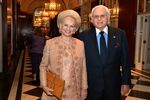 Billionaire Ira Rennert took his fight over the looting of a Utah magnesium company in the years before it filed for bankruptcy to the lawyers that represented him, blaming their "careless and negligent errors" for a $213 million judgment.
A trustee for Magnesium Corp. of America had accused Rennert of diverting money from the company to help build a 29-bedroom mansion in New York's Hamptons. The money never should have left MagCorp because massive environmental claims already threatened to push the company into bankruptcy, according to the trustee.
A federal jury in New York found Rennert and his company, Renco Group Inc., liable and awarded the trustee $117 million in damages. A judge ordered Rennert and Renco to pay 14 years worth of interest on the award. An appeals court in March upheld the judgment and the Supreme Court declined to review the case in October.
In a lawsuit filed Monday in state court in Manhattan, Renco blamed the law firm, Arnold & Porter Kaye Scholer LLP, for mistakes that led to the verdict. The company said the firm failed to push for proper jury instructions and questions on the verdict form that would have resulted in a different outcome.
Spokeswoman Issara Baumann said the law firm is confident it has fulfilled its professional obligations and will fight the lawsuit.
Before it's here, it's on the Bloomberg Terminal.
LEARN MORE