Adelson to Host Scaramucci at Republican Jewish Gathering
By
New York financier was briefly Trump's communications director

Republican Jewish Coalition is led by billionaire casino mogul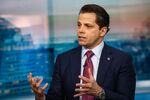 Anthony Scaramucci, the New York financier ousted as White House communications director last year after about a week on the job, will be among the featured speakers next month at the annual meeting of the Republican Jewish Coalition in Las Vegas.
Billionaire casino owner Sheldon Adelson, a major benefactor of the group who had a private dinner with President Donald Trump at the White House last year, is convening the gathering Feb. 9-11 at his Venetian/Palazzo Resort and Hotel.
Other top speakers expected at the event include House Speaker Paul Ryan, Wisconsin Governor Scott Walker, Missouri Governor Eric Greitens, Israeli Ambassador to the U.S. Ron Dermer and former U.S. diplomat John Bolton, according to the group's website.
The RJC provides an elite network of fundraisers who help Republicans up and down the ballot -- especially in states with larger Jewish populations -- while also lobbying Republican lawmakers and administration officials for pro-Israel policies. Adelson and his wife Miriam contributed at least $82.5 million to conservative causes during the 2016 election cycle, ranking first among Republicans, according to the Center for Responsive Politics.
Adelson was a proponent of the decision to move the U.S. embassy in Israel to Jerusalem, which Trump decided to do last month.
Scaramucci's proposed sale of his hedge fund, SkyBridge Capital, to Chinese conglomerate HNA Group Co. is pending national security approval before the Committee on Foreign Investment in the United States, or CFIUS.
Before it's here, it's on the Bloomberg Terminal.
LEARN MORE