'Only Natural' That EU Plans for Brexit No Deal, Spokesman Says
By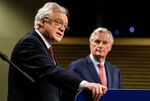 The European Commission said it's surprised U.K. Brexit Secretary David Davis is questioning its contingency plans for failing to get a deal with Britain, adding that it was only following the government's lead.
Prime Minister Theresa May has previously said not reaching an agreement in the Brexit negotiations would be preferable to leaving the European Union with a bad agreement, so "it is only natural" that EU negotiators "also prepare for every eventuality," European Commission spokesman Margaritis Schinas told reporters in Brussels.
In a letter sent to May first reported by the Financial Times, Davis said the EU was damaging U.K. interests in some of its planning for no deal and that its advice to businesses didn't take into account the possible transition period between 2019-2020.
"We are surprised that the United Kingdom is surprised that we are preparing for a scenario announced by the U.K. government itself," Schinas said, adding that the commission would not consider changing guidance to companies to take in account for a possible transition period after Brexit.
Before it's here, it's on the Bloomberg Terminal.
LEARN MORE