politics
What Trump's Physical Exam Might Not Reveal
By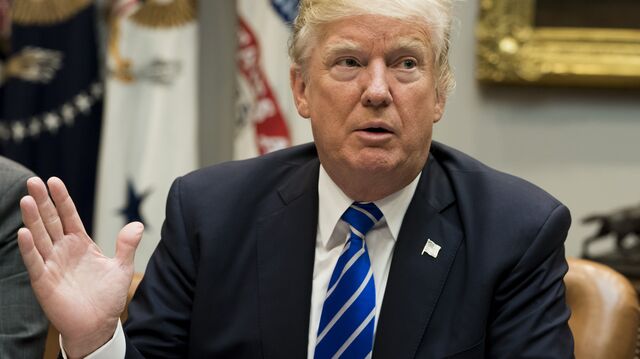 Want to receive this post in your inbox every morning? Sign up for the Balance of Power newsletter, and follow Bloomberg Politics on Twitter and Facebook for more.
A new front in the debate over Donald Trump's fitness for office -- and the transparency of his White House -- will open up this week as the U.S. president undergoes his first physical since his inauguration.
While the health of the oldest American to be elected president -- and one with a taste for McDonald's -- would always invite scrutiny, Trump's is drawing extra attention after a tell-all book ignited debate about his mental state.
The 71-year-old president's attempts to counter the author's claims -- declaring himself a "very stable genius" on Twitter -- have only fueled the discussion, as have Trump's efforts to retaliate against estranged strategist Steve Bannon, a key character in the book. Bannon yesterday tried to mend fences.
The physical may answer few questions, as Shannon Pettypiece explains. Although the White House has promised to release the report, those of past presidents have revealed little more than basic metrics (although they have affirmed presidents' normal neurological function).
Still, Trump may be under pressure to go further, especially given past claims about his health. During the 2016 campaign, his personal doctor said he'd had "astonishingly excellent" lab results and would be the "healthiest individual ever elected."

Global Headlines
Shutdown countdown | The U.S. Congress is barreling towards a potential government shutdown after Jan. 19, with Republicans and Democrats each dug in on immigration and other policy disputes tied up in the debate over funding. Reaching a bipartisan deal this week is crucial, as lawmakers will need the following week to vote on whatever legislation emerges from negotiations.
Macron's difficult message | French President Emmanuel Macron arrived in Beijing today looking to woo his host Xi Jinping, but also threatening to make life harder for the Chinese leader. Macron is calling for greater market access just as the EU considers new tools to block some foreign investment. "The ancient Silk Roads were never only Chinese,'' Macron said in his opening speech of the trip. "The new roads cannot only go one way.''

U.K. cabinet shuffle | Theresa May is kicking off the new year with a ministerial makeover today as she seeks to put 2017's defeats behind her. There may be some new faces but Boris Johnson is unlikely to get bumped off the foreign office given his standing in pro-Brexit circles. The shakeup is a sign that May plans on seeing the U.K.'s divorce from the EU to completion but her fate remains tied to the outcome of those talks.
Heroine or rabble-rouser? | An Israeli military court will decide today whether to extend the detention of a 16-year-old Palestinian. A video of Ahed Tamimi slapping and kicking an Israeli soldier has made the teenager, who hails from a family of anti-occupation activists, a modern-day Joan of Arc among Palestinians. In Israel, it's sparked a debate over whether the soldier should have dodged her blows as he did without retaliating.  

An Olympic challenge | South Korean officials face a delicate task tomorrow when they meet their North Korean counterparts for the first time, in a border village, in more than two years to discuss cooperation on the upcoming Pyeongchang Olympics, Kanga Kang reports. President Moon Jae-in wants to entice Kim Jong Un into broader nuclear talks without undermining the U.S.-led pressure campaign against him.
And finally... If Oprah Winfrey is in fact pondering a presidential run, she's got the stock denial down pat. Winfrey's rousing speech at last night's Golden Globes Awards promised "a new day" for women following the wave of sexual misconduct allegations that has swamped Hollywood, fueling speculation she could try to oust Trump in two years. But Winfrey told Bloomberg backstage she has no presidential ambitions. 

Before it's here, it's on the Bloomberg Terminal.
LEARN MORE