Trump Ends Reprieve From Deportation for 200,000 Salvadorans
By
Immigrants could be deported if don't leave by Sept. 9, 2019

Temporary permits were granted after series of earthquakes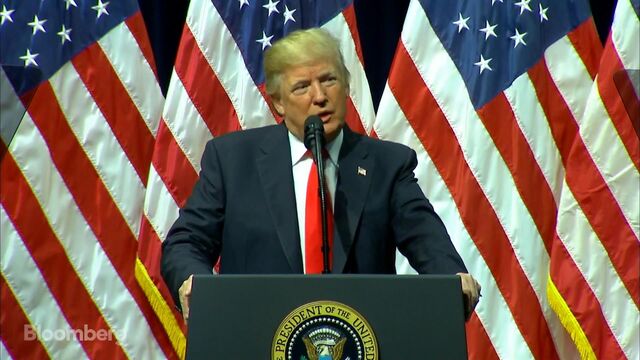 About 200,000 Salvadorans who have been in the U.S. since at least 2001 must leave the country or be subject to deportation beginning next year, the Trump administration announced Monday.
The Salvadorans, who were granted temporary permits to live and work in the U.S. after a series of deadly earthquakes, could be deported if they don't leave the U.S. by Sept. 9, 2019, said two administration officials who briefed reporters Monday on condition of anonymity.
Salvadorans make up the largest portion of individuals covered by so-called temporary protected status, which shields about 320,000 people in the U.S. from deportation, according to the Congressional Research Service. The humanitarian program covers immigrants who have fled from natural disasters and other turmoil in their home countries.
President Donald Trump's decision signals a departure from the stance of previous administrations, which granted and re-authorized temporary protected status for some Central Americans beginning in the late 1990s.
2016 Re-Authorization
In 2016, the Obama administration determined that conditions in El Salvador remained unsafe for the return of residents covered by the TPS program.
"There continues to be a substantial, but temporary, disruption of living conditions in El Salvador resulting from a series of earthquakes in 2001, and El Salvador remains unable, temporarily, to handle adequately the return of its nationals," a July 8, 2016, notice in the Federal Register said.
By delaying the effective date until 2019, the Trump administration is giving Congress time to come up with a permanent legislative solution for the TPS recipients, a senior administration official said. Congress is currently debating whether to pass legislation that would provide protections for immigrants brought to the U.S. as children without proper documentation, along with other potential changes to immigration laws.
Advocates for continuing TPS for El Salvador and other countries in Central America have argued that violence and political unrest make it unsafe for migrants to return.
"Conditions in El Salvador continue to place people's lives in grave danger." said Royce Bernstein Murray, policy director of the American Immigration Council, a pro-immigration group in Washington. "Since the administration won't protect them, Congress must seize this moment to provide a legislative fix."
Trump campaigned on a hard-line approach to immigration and his allies have said the temporary protections have persisted far beyond their original intent.
The protection program has been recently criticized by Senator Chuck Grassley, an Iowa Republican who chairs the Senate Judiciary Committee, who said in an Oct. 30 letter to the Department of Homeland Security that immigrants living in the U.S. under TPS were taking "jobs that might otherwise be filled by one of the 7.1 million unemployed Americans."
In November, the Trump administration said it was ending TPS for Haitians who came to the U.S. after the deadly 2010 earthquake. The decision was criticized by Republican and Democratic lawmakers from Florida.
Some of those lawmakers also criticized Trump's decision to end TPS for El Salvador.
"Strongly disagree with decision to end #TPS for Salvadoran nationals residing in U.S," Representative Mario Diaz-Balart, a Miami Republican, said on Twitter. "I am a cosponsor of ESPERER Act, bipartisan bill that would allow those eligible with TPS status prior to 1/13/11 to adjust to legal permanent resident status."
More than 90 percent of TPS beneficiaries come from Honduras, El Salvador and Haiti. Losing them could cost the U.S. about $280 million in contributions to gross domestic product, according to an analysis by the Immigrant Resource Center, which promotes immigrant rights.
— With assistance by C. Thompson
Before it's here, it's on the Bloomberg Terminal.
LEARN MORE