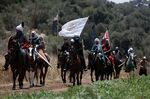 Snapchat CEO Evan Spiegel has said he's trying to counter the evils of social media. It's a timely goal given the angst about Facebook, but there's a tiny problem with his mission: It might hurt one of Snapchat's chief sources of revenue.
In recent months, Spiegel has cast Snapchat as the noble warrior fighting internet scourges. He has railed against web hangouts -- read: Facebook -- that feed people information and entertainment based on what's popular among friends. That might be photos from a colleague's birthday party, or it might be Kremlin-backed propaganda aimed at dividing Americans.
We've seen the downsides when YouTube or Facebook algorithms serve up relatively unfiltered streams of what's popular. Spiegel has sought to capitalize on the backlash by saying Snapchat is different from other digital hangouts. And it is. Snapchat actively screens the widely accessible entertainment and information in its app. It's tough for any post to be seen by many people without the company's approval.
And with an app redesign Snapchat announced in November, public entertainment and information are further fenced into a discrete section of the app. It's separate from the spots where people privately share photos daily video diaries with friends.
This cues people to use Snapchat's app more for deep interactions with their friends, with fewer distractions from celebrities or TV networks trying to grab their attention. Snapchat deserves credit for creating a digital space where people are less inclined to publicly perform to hunt for "likes" or other kinds of feedback, and where they're less likely to wallow in harmful posts or videos.
As Spiegel put it, Snapchat is trying to separate the "social" -- that is, personal interactions -- from the "media." Here's the problem, though, about downgrading the attention-seeking type of media on Snapchat: It's also the company's most compelling spots for advertising.
Parent company Snap Inc. doesn't specify its sources of revenue, but it most likely generates a significant chunk of its sales from advertisements within professionally produced videos and articles from companies including the Economist, BuzzFeed and National Geographic. Companies that want to pitch movie tickets or handbags feel comfortable buying ads that appear next to these relatively conventional types of media.
If Snapchat's users take their cues from Spiegel and double down on private communications, they may spend less time with the Economist or ESPN's daily video show. That wouldn't be great for Snapchat's revenue.
Snapchat can counteract this potential revenue hit. It's possible that if Snapchat users and advertisers feel better about the app overall, they may spend more time and money there regardless. Snapchat could come up with clever new ideas for advertising that are less dependent on people spending time with BuzzFeed on Snapchat.
And the company could also become more aggressive about selling advertising in other spots in its app, such as next to users' chat messages or their daily video diaries, called Stories. But people might revolt if they're being pitched acne cream while they're trading condolence messages about a friend's dead dog.
Even Facebook hasn't figured out how to generate significant revenue from its private communications apps, Messenger and WhatsApp, and Facebook is quite adept at luring advertising. That's not a hopeful precedent for Snapchat, which has not been as adept.
And advertisers' interest already appears to be waning. In a recent survey by stock analysts at Cowen & Co., advertisers were asked to rank the importance of social media companies in their marketing strategies. Snapchat came in fifth out of five companies, and its score fell compared with surveys conducted in the two previous years.
Creeping doubts about Snapchat's appeal to advertisers, concerns about user growth and repeated flops in quarterly earnings have made Wall Street more pessimistic about Snapchat's business. Six months ago, stock analysts expected Snapchat to generate nearly $2 billion of revenue in 2018. Now, on average the company's revenue is expected to be $1.3 billion.
Snapchat can ill afford anything else that could derail its advertising revenue growth. Spiegel can quote 19th century political writer Alexis de Tocqueville all he wants, but it won't change the stark reality: For financial success, he needs both the social and the media.
Before it's here, it's on the Bloomberg Terminal.
LEARN MORE