Netanyahu's Son Toured Strip Clubs in Government Armored Car, Report Says
By
Gas drilling deal figures in boys' night out in Tel Aviv

Prime minister says he raised his children to respect women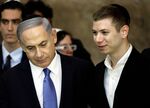 Israeli television broadcast a 2015 recording in which Prime Minister Benjamin Netanyahu's son banters with a son of a shareholder in a gas company that won offshore drilling rights from the government, even asking him for money to pay a stripper.
Yair Netanyahu was recorded cruising between strip clubs in downtown Tel Aviv in a government-supplied armored car with one of the sons of Isramco Negev 2 LP shareholder Jackob Maimon, according to Hadashot TV news. Along with them was another friend, a secret-service agent and a driver.
Amid raunchy jokes about a night of drinking at the adult clubs, the younger Netanyahu can be heard complaining that the friend won't lend him money to pay a dancer even though his father benefited from the lucrative gas business with the government . 
"Bro, my dad arranged a $20 billion deal and you can't spot me 400 shekels" ($116)? Yair Netanyahu says. The conversation was in Hebrew.
Living Large
As police have been conducting an investigation for more than a year into corruption allegations against the prime minister, his 26-year-old son has been criticized for leading a lavish lifestyle supported by taxpayers -- particularly for being given a security detail and the use of government cars.
Hadashot, which bleeped out many comments in its Monday night report, said it had rebuffed efforts to block the broadcast. It quoted a statement from the Netanyahu family calling the story, "cheap, vicious gossip" and describing the recordings as part of a "witch hunt" to bring down the prime minister.
Hours after the report, Yair Netanyahu issued an apology, saying his remarks had been made under the influence of alcohol and did not represent his present behavior two years after the recording, according to the Ynet news website.
Asked about the episode at a press conference Tuesday, the prime minister said he and his wife had taught their children to respect women and that he has tried to stamp out sexual discrimination in government, business, education and the military. 
"To my mind, these are the values with which all Israeli children should be educated," Netanyahu said, according to remarks distributed by his office.
Energy Independence
Isramco Negev 2 is one of the partners that bought drilling rights from the government to the Tamar gas field off Israel's Mediterranean coast. A company representative, who declined to give his name, declined to comment on the younger Netanyahu's remarks to Maimon's son. The company's Houston-based affiliate, Isramco Inc., had no comment, general counsel Anthony James said by phone.
Netanyahu said that even though he was immersed in efforts to generate revenue from Israel's gas discoveries, he was barely acquainted with Maimon and did not know Yair was friends with Maimon's son. The prime minister also asserted said Maimon probably was unhappy with the government's 55 percent tax rate for those who won the gas contracts.
"He will lose revenue to state coffers of hundreds of millions of shekels, and perhaps even more," Netanyahu said. "Every citizen of Israel benefits from the gas framework, except for one person -- Koby Maimon."
Tamar, a natural gas field of 10.8 trillion cubic feet natural gas field, was discovered in 2009; Leviathan, a field almost twice the size, was found a year later. Netanyahu billed the discoveries as an opportunity for Israel to achieve energy independence, export gas to foreign markets and bring in billions of dollars in revenue.
Before it's here, it's on the Bloomberg Terminal.
LEARN MORE