Oprah Winfrey's Globes Speech Stirs Talk of a Trump Challenge
By
'New day is on the horizon,' she promised at awards show

Billionaire said after speech that she doesn't plan to run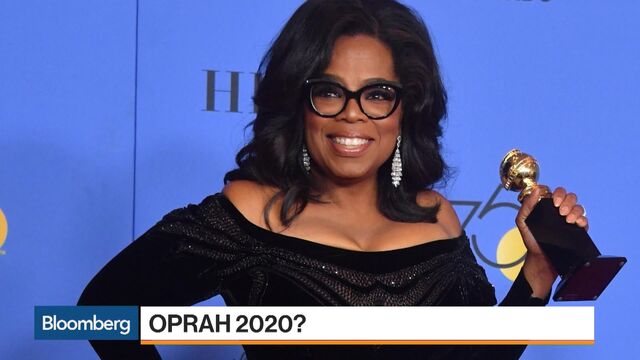 Democratic Party operatives and some Republicans say that Oprah Winfrey could mount a formidable 2020 presidential campaign, after an impassioned speech at the Golden Globes on Sunday that was regarded as a rebuke of President Donald Trump.
Winfrey herself said afterward she's not planning to run. And political strategists say that she so far has shown no sign of making the sorts of moves this year that would indicate serious interest in a 2020 campaign.
But her speech -- combined with her considerable wealth, her personal popularity and her obvious contrasts with Trump -- immediately stirred speculation. Discussing Hollywood's sexual harassment scandal, Winfrey promised that "a new day is on the horizon" -- a remark that some political wags immediately read as a future campaign slogan. If a billionaire former television reality show star can be elected president, why not a billionaire former talk show host who would also happen to be the first black woman to occupy the Oval Office?
"Oprah occupies a particular place in our culture that is deeply rooted in optimism and values. Her speech was a breath of fresh air in the middle of feeling like our country is drowning," said Guy Cecil, chairman of Priorities USA, a Democratic super-PAC.
Winfrey's actual political ambitions are unclear. Asked backstage after her speech if she planned to run, Winfrey responded: "I don't -- I don't." Her longtime partner Stedman Graham, though, told the Los Angeles Times: "It's up to the people. She would absolutely do it."
And CNN reported Monday that two of Winfrey's close friends said she is "actively thinking" about running and has had conversations about a race for several months.
Representative Jackie Speier, a Democrat from California, tweeted on Monday: "Run, Oprah, run! An army of women would fight for you in #2020election #2020prah."
A White House spokesman, Hogan Gidley, told reporters aboard Air Force One that any Democratic challenger in 2020 will face an incumbent president with "record-setting achievements in record-setting time. We welcome the challenge whether it be Oprah Winfrey or anyone else."
Political Reassessment
Winfrey, 63, said that Trump's election changed her sense of her own viability for the office, in an interview that aired early last year with Bloomberg Television's "The David Rubenstein Show."
"I never considered the question even a possibility," she said. "I thought, 'Oh gee, I don't have the experience, I don't know enough.' But now I'm thinking, 'Oh. Oh."'
Some Republicans think she'd be a challenge for Trump. Bill Kristol, the founder of the conservative magazine The Weekly Standard and a Trump critic, tweeted on Monday that Winfrey is "sounder on economics than Bernie Sanders, understands Middle America better than Elizabeth Warren, less touchy-feely than Joe Biden, more pleasant than Andrew Cuomo, more charismatic than John Hickenlooper."

Kristol added Hillary Clinton's former campaign hashtag: #ImWithHer.
In September, after "60 Minutes" aired a focus group discussion led by Winfrey about the political divides in Trump's America, conservative columnist John Podhoretz wrote that she was "Democrats' best hope for 2020."
Winfrey responded to Podhoretz on Twitter: "Thanks for your VOTE of confidence."
But the next month, she told best friend Gayle King during an interview on "CBS This Morning" that "there will be no running for office of any kind for me."
'Isn't That Crazy'
Like many potential candidates before her, though, Winfrey may find the lure of a campaign irresistible -- especially if a groundswell of public enthusiasm follows her Globes speech. And she has not been apolitical. After hearing Barack Obama speak at the Democratic National Convention in Boston in 2004, she brought him onto her show, befriended him and strongly supported both of his presidential bids.
Former Obama senior adviser Dan Pfeiffer wrote on Twitter Monday that "I slept on it and came to the conclusion that the Oprah thing isn't that crazy." He also voiced a sentiment expressed by many others: "I don't know if Oprah would be a good president, but she would definitely be a better president than Trump."
Billionaire Democratic mega-donor Tom Steyer, who's also been mentioned as a potential 2020 candidate, praised Winfrey's speech at a news conference in Washington on Monday where he announced he'd put $30 million toward boosting his party's chances of winning the House this year. He said he won't discuss 2020 candidates until after the midterm elections.
"I watched Oprah's speech this morning on my phone, and it was a fantastic speech," he told reporters in Washington.
The Democratic National Committee didn't respond to a request for comment.
Winfrey v. Trump
Winfrey is both wealthier and more popular than Trump. She is worth an estimated $3.6 billion, according to the Bloomberg Billionaires Index, compared to Trump's $2.9 billion.
And while the president's approval ratings generally hover below 40 percent, 52 percent of voters surveyed last year by Quinnipiac University said they viewed Winfrey favorably, compared with 23 percent who viewed her unfavorably.
But those same voters overwhelmingly opposed a potential Winfrey presidential bid, with 69 percent saying she should not run.
Joe Trippi, a Democratic strategist who served as campaign manager for former Vermont Governor Howard Dean's 2004 presidential campaign, said Winfrey would win the Democratic nomination thanks to her popularity, name recognition and resources.
"She could run if she wants and she'd have the resources and the name ID and all those things that a whole lot of people start out running for president not having," Trippi said.
Jennifer Palmieri, former communications director for the Obama White House and Clinton campaign, said that Winfrey's well-known story and the context in which the American people learned it -- over decades of revelations on her TV show and in her magazine -- could go a long way toward surmounting challenges that Clinton faced in 2016 because of her gender.
"If she's able to position herself with an ambition that people are comfortable with, that would be a pioneering thing and I think that would address a lot of the walls that Hillary ran into," said Palmieri, who on Twitter offered to send Winfrey the galleys of her forthcoming book, "Dear Madam President: An Open Letter to the Women Who Will Run the World."
Getting Started
One obstacle for Winfrey could be that while she is quite different from Trump, she shares his lack of government experience. By 2020, Trippi said Americans might instead be looking for "somebody who knows how to make it all work."
If she were to consider a run more seriously, several Democrats said in interviews, one of her first steps should be to get involved in 2018 races. 
"You can't just sit on the sidelines if you're going to run in 2020. You've got to be active now," said Adrienne Elrod, a Democratic strategist who led the 2016 Clinton campaign's outreach to celebrities.
And some travel would need to be part of the equation. Asked for his thoughts on a Winfrey run, Andy Spahn, political adviser to Steven Spielberg and Jeffrey Katzenberg, responded: "Let's talk if she shows up in Iowa."
Speculation about Winfrey's presidential ambitions had market effects on Monday. Weight Watchers International Inc., which counts Winfrey as a board member, shareholder and endorser, surged as much as 14.5 percent to $53.72 in New York trading, the most since August.
— With assistance by John McCormick, Arit John, Anousha Sakoui, and Justin Sink
Before it's here, it's on the Bloomberg Terminal.
LEARN MORE