Novo Goes Public With $3.1 Billion Bid to Pressure Ablynx
By and
CEO Jorgensen makes Novo's largest takeover attempt ever

Takeover bid price is 44 percent above Ablynx's Friday close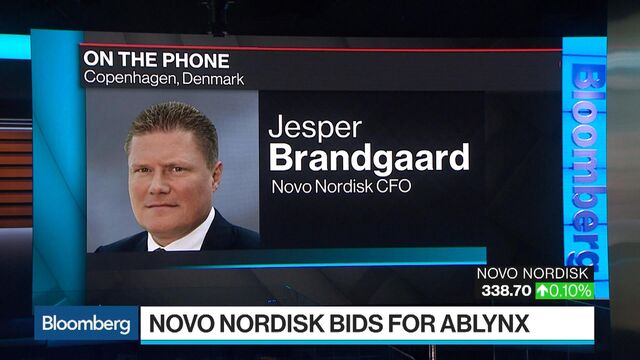 Danish drugmaker Novo Nordisk A/S made its largest takeover offer ever, an unsolicited 2.6 billion-euro ($3.1 billion) bid for Belgium's Ablynx NV, to beef up its lesser known blood-disorder unit and rekindle growth.
The offer for Ablynx signals a higher appetite for deals at the world's biggest maker of diabetes medicines. A year after taking the reins, Chief Executive Officer Lars Fruergaard Jorgensen is looking to expand beyond the field of diabetes and gain medicines that command high prices because they target rare diseases. One Ablynx treatment called caplacizumab is poised for approval this year for an unusual disorder in which blood clots form in small vessels throughout the body.
"The size of this transaction is of a larger magnitude than what we've done in the past decade," Chief Financial Officer Jesper Brandgaard said in a telephone interview. "It marks a higher risk willingness and a willingness to obtain innovation from outside Novo Nordisk."
Novo went public after Ablynx rejected a proposal that includes an upfront cash offer of 28 euros a share and additional cash payments known as contingent value rights of up to 2.50 euros per share tied to the success of two experimental medicines, the Bagsvaerd, Denmark-based drugmaker said in a statement Monday. The maximum payment is 44 percent more than the stock's closing price on Friday in Brussels.

The offer undervalues caplacizumab and the rest of the company's pipeline, Ablynx Chief Executive Edwin Moses said in a statement. "The proposed consideration and a complex instrument like a CVR does not constitute a basis for further discussions at this time," he said.
Novo shares rose less than 1 percent to 339.85 kroner at 1:45 p.m. in Copenhagen. Ablynx was suspended on the Brussels stock exchange. The company, whose stock has almost doubled since the beginning of 2017, could be worth as much as 36 euros per share if all the outcomes included in the contingent value right are successful, according to Peter Welford, an analyst at Jefferies Group LLC in London.
Jorgensen presented the latest offer to Ablynx's board on Dec. 22, following a previously undisclosed 26.75-euro-per-share bid earlier in December. He called Moses to try to start talks on Jan. 5, and again the Belgian company's board refused, according to Novo.
Novo may not be the only drugmaker interested in buying Ablynx. Bayer AG, Novartis AG, Shire Plc and Sanofi all have assets that would make the Ghent, Belgium-based company a good fit, according to analysts at Credit Suisse. GlaxoSmithKline Plc also also stated its desire to build new pipeline technologies for the future.
"We envisage Novo needing to hike the offer and could see counter-bids," Welford of Jefferies wrote in a note to clients.
Biggest Shareholder
Ablynx's biggest shareholder, Aat van Herk, did not immediately return calls seeking comment. The reclusive Dutch millionaire tried to bargain to get Johnson & Johnson to raise its $2.4 billion bid for local vaccine maker Crucell in 2011.
The takeover proposal comes as Novo faces increased competition in diabetes. Though the market for drugs is huge -- around $40 billion in sales -- that's drawn a flood of similar treatments from the world's largest drugmakers, forcing them to compete on price for many older products. A new entry called Ozempic, approved by the U.S. Food and Drug Administration last month, is expected to help.
Rare Disorders
Novo Nordisk shares have risen 32 percent in the past year, valuing the company at 846 million kroner ($136 billion).
Ablynx develops drugs from proteins known as nanobodies. Caplacizumab addresses the rare disorder called acquired thrombotic thrombocytopenic purpura, in which blood clots form in small blood vessels throughout the body. The illness can block the flow of blood to the body's organs, according to the U.S. National Heart, Lung and Blood Institute.
The company is also developing a treatment for auto-immune disorders such as rheumatoid arthritis and systemic lupus erythematosus, as well as a viral infection in infants. Novo and Ablynx have been involved in a research collaboration since 2015.
Novo's announcement is part of a flurry of pharmaceutical industry deal news that investors can expect this week because JPMorgan Chase & Co.'s health-care investment conference, a key deal-making venue, kicks off Monday in San Francisco. Celgene Corp. announced late Sunday that it had agreed to buy closely held Impact Biomedicines for $1.1 billion upfront to gain an experimental blood cancer treatment.
Evercore is acting as financial adviser to Novo Nordisk and JPMorgan Chase & Co. is advising Ablynx.
— With assistance by Phil Serafino, Ellen Proper, Chitra Somayaji, and Naomi Kresge
Before it's here, it's on the Bloomberg Terminal.
LEARN MORE