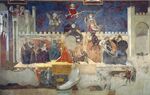 Did anyone mention the word bail-out? Banca Monte dei Paschi di Siena SpA is returning to the debt markets less than a year after its rescue imposed losses on junior bondholders.
The Italian bank is even likely to find willing buyers for its offering of Tier 2 junior bonds this week.
For purchasers, the logic goes that if the country were going to walk away from its most troubled lender, it would have done so by now. The European Central Bank has given its backing to Paschi's recovery program. Add an attractive yield in a world of negative interest rates, and the lender could well induce a little selective amnesia among investors.
It will need to. When the bank was rescued, 4.3 billion euros ($5.2 billion) of subordinated bonds were bailed in as regulators forced them to share the cost with taxpayers. If Monte Paschi were to stumble again there is still precious little buffer for bondholders.
In that context, it looks brave to start with a form of junior debt rather than the most senior. But investors will be reticent about buying the latter until there's some more junior debt below that could be bailed in first.
So it makes sense to start with Tier 2 debt -- subordinate, but not the riskiest form of bond. Given Monte Paschi's credit rating is so low -- Moody's puts it at Caa2 for this deal -- selling even riskier Tier 1 debt would still be too expensive.
The timing of the deal should work to the bank's advantage. Investors' risk appetite is typically greatest at the start of the financial year. Italy won't hold its election until March, reducing the political risk. Credit spreads are tightening to new post-crisis lows, and demand is particularly strong if the coupon is high.
The Siena-based bank needs to issue frequently in the future, so can't afford to be stingy. Banca BPM SpA's Tier 2 securities issued in September yield about 4 percent. Monte Paschi will need to offer more, given its rating at Moody's is three steps lower.
This will be a deal for only the brave, coming so soon after previous holders of subordinated debt were bailed in. For the battered lender, forgiveness will come, but at a price.
Before it's here, it's on the Bloomberg Terminal.
LEARN MORE