politics
Merkel Hemmed In by Hard-Liners Pushing Right in Coalition Talks
By and
Chancellor needs deal with conservatives, SPD for fourth term

Party leaders have good reasons to avoid failure: Schmieding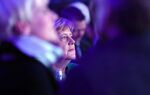 Angela Merkel's own party bloc is making her life more difficult as hard-liners seek to force the German chancellor to shift to the right in talks on setting up a government.
After more than three months of post-election stalemate, Merkel is seeking a commitment this week from the Social Democrats to start formal negotiations on extending their governing alliance. Any coalition pact also has to accommodate her Bavarian sister party, the Christian Social Union, and its tough line on immigration and European policy.
Merkel's 12 years in office are feeding a growing sense in parts of her bloc that the exploratory talks that began Sunday are the last chance for the current crop of leaders to stay in power. The acting chancellor, SPD head Martin Schulz and CSU chief Horst Seehofer -- soon to be replaced as Bavarian state premier by a younger leader -- are all vulnerable to a shifting public mood that is skeptical of another "grand coalition."
"All three party leaders have a strong personal interest in the success of the coalition talks," said Holger Schmieding, chief economist at Berenberg. A deal might involve the SPD allowing curbs on migration demanded by the CSU in return for expanded health and old-age benefits, he said.
Read more: Why Germany's 1930s collapse suggest Merkel will get her coalition
"There's a great deal to get done," Volker Kauder, Merkel's caucus leader in parliament, told reporters as talks resumed Monday in Berlin. "But if we make an effort and the atmosphere is as good as it's been in the past few days, something could come of it."
Bavaria's CSU staked out its stance in a manifesto last week by Alexander Dobrindt, its parliamentary leader. The party is the vanguard of a "conservative revolution" that rejects excessive immigration, the perceived encroachment of Islam, political correctness and overbearing government, Dobrindt said in an op-ed in Die Welt newspaper.
The positioning reflects the impact of the Alternative for Germany party, which entered the federal parliament with 12.6 percent of the vote in September after vilifying Merkel for refusing to shut Germany's border to refugees. Merkel's bloc won the election with 32.9 percent, its worst result since 1949.
'Biggest Risk'
Schulz told Merkel and Seehofer privately last week that his political career will be over if the three parties can't put together a government, Bild newspaper reported Saturday. Seehofer agreed and appeared to suggest that Merkel faces the same risk, Bild said.
The two sides are seeking to finish exploratory talks by Thursday. If there's enough common ground, SPD leaders would ask a party convention on Jan. 21 to back full-fledged negotiations on a policy blueprint for a government.
Many SPD members are wary of serving as Merkel's junior partner for a third time after the party's support plunged to the lowest level since World War II in an inconclusive national election in September. The SPD convention "is the biggest risk for Martin Schulz," Schmieding said.
Personal familiarity and budgetary leeway created by Germany's economic boom may smooth the way to a deal. Merkel has governed with the SPD for eight of her 12 years in office in a "grand coalition" of Germany's two biggest parties.
Read more: Why Merkel's critics are pressing her to consider minority rule
Merkel, 63, is regrouping after her attempt to build a patchwork government with the pro-market Free Democrats and the Green party fell apart in November. She viewed the FDP's walkout as an attempt to weaken her standing, rather than a result of policy disagreements, a person familiar with her thinking said at the time.
Modern Germany's longest political deadlock since World War II has put decisions on hold on everything from euro-area policy to government spending, migration and social programs.
If the coalition bid fails, Merkel may end up leading a government without a parliamentary majority or face a repeat election in which she has said she'll run again.
(
Updates with comments by Merkel caucus leader in fifth paragraph.
)
Before it's here, it's on the Bloomberg Terminal.
LEARN MORE