business
Flooding Risk After Wildfires Adds to California's Weather Woes
By
Heavy downpours in burned areas could cause mudslides

Residents could lose homes in seconds to flooding debris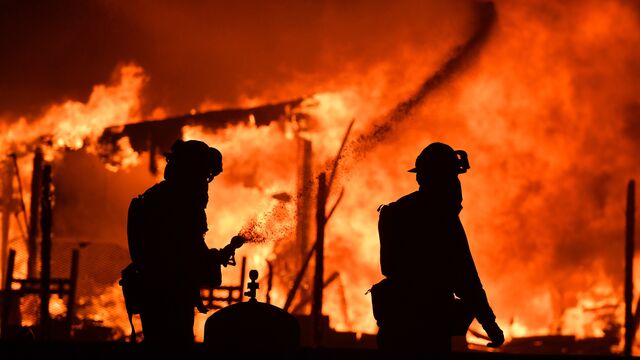 More deadly weather is on the way for California.
Residents who escaped devastating wildfires that swept through the state in October and December now face life-threatening floods that could destroy their homes in a matter of seconds.
As much as 7 inches (18 centimeters) of rain, and 9 inches in some places, is forecast to fall across fire-scarred areas this week. Heavy rainfall could trigger mudslides that will carry debris out of the foothills and down mountains, said Louis Uccellini, director of the National Weather Service.
"You can fill up a house in five seconds,'' Uccellini told the annual meeting of the American Meteorological Society on Monday in Austin, Texas.
Those areas hit hardest by fires could prove the most vulnerable to flooding as they've lost vegetation and trees that would normally absorb the rain and also slow its path.
The downpours, which prompted flash flood warnings in places including Los Angeles County, are being caused by a "dynamic'' storm system moving in from the Pacific, said Marc Chenard, a senior branch forecaster at the U.S. Weather Prediction Center in College Park, Maryland, by telephone. The worst will be seen late Monday into Tuesday.
Before it's here, it's on the Bloomberg Terminal.
LEARN MORE