Election Risks Loom Over Latin American Sovereign Bonds in 2018
By and
Major Latin American countries head toward elections this year

Corruption scandals and currency risk continue to weigh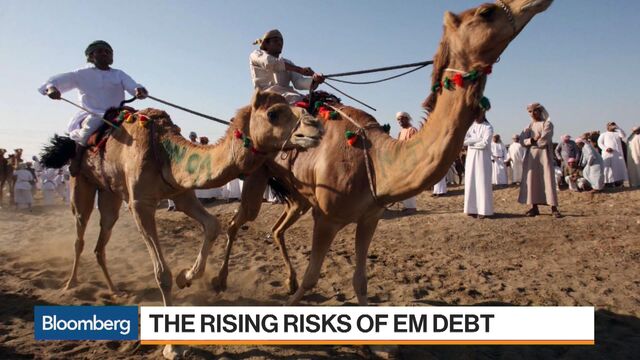 Politics, politics and still more politics. That's what will dominate the market for Latin American sovereign bonds this year as the region gears up for as many as a half-dozen elections everywhere from Mexico to Brazil and Colombia.
In Mexico, twin pressures from the election and an ongoing Nafta renegotiation will drive bonds, while in Brazil, the fallout from the Odebrecht scandal continues to roil domestic politics -- and has spilled over into nearby Peru and Ecuador. Venezuelan bonds led global gains in 2016 but cratered the following year. Now, the nation is overdue on more than $1.5 billion of debt.
The best bets for 2018 are in Argentina and Brazil, according to Alejo Czerwonko, an analyst at UBS AG in New York. Czerwonko predicts modest returns across emerging-market sovereigns, and says that investors must be creative.
"We see opportunities mostly in the high-yield space," Czerwonko said in an interview. "The outlook will be characterized by a large number of elections, and that's something that one needs to follow closely."

Here's a guide to what investors should watch for in 2018:
Mexico
Mexico's sovereign debt market is split between local and hard currencies. Investors worry about the possibility of a breakdown in Nafta talks and the possible victory of leftist presidential candidate Andres Manuel Lopez Obrador in July. The risks have meant a record yield premium to hold the country's local debt instead of overseas bonds, even as yields declined for both in 2017.
Associated risks include the possibility that a Lopez Obrador victory could stall the opening of the energy industry to private investment and slow public infrastructure investment. Still, investors have calmed since Trump's election, and CDS spreads and yields on local currency bonds have fallen.
Brazil
Brazil's debt posted a stellar performance last year as dollar and local currency sovereigns both posted returns of nearly 14 percent according to data compiled by Bloomberg. Yields on dollar sovereigns rose while local note yields fell. In 2018, the story is likely to center around politics as the embattled administration of Michel Temer struggles to pass its pension revamp bill. The government has delayed a vote on the bill until February and passage of the legislation is uncertain. Pension costs are high, and prospects for the nation's economic future may dim without passage. Brazil's budget deficit targets remain high and a potential S&P Global Ratings decision looms.
Later in the year, the October presidential election will hold sway over Brazil's assets. Former president Luiz Inacio da Silva, better known as Lula, leads in the polls, despite his ongoing appeal of a criminal conviction that could determine whether he's even eligible to run. The election is make-or-break, as Temer's fiscal reforms are unlikely to survive a Lula administration.
Venezuela
A Bloomberg model implies an 84 percent probability of default in the next year for the world's riskiest debt. As it currently stands, the oil-rich nation is overdue on more than $1.5 billion in bonds. Venezuelan bonds led global losses in 2017 after topping gains the year prior.
While optimists point to the nation's history of muddling through payments and the potential for an opposition victory in the 2018 presidential election, some fear that Nicolas Maduro's government will cancel or rig the vote to remain in power, which would probably prevent a debt restructuring. It's also possible the Trump administration could levy sanctions on Venezuela's all-important oil sector, which accounts for about 95 percent of the nation's export earnings.
Argentina
Argentina has rushed to front-load its bond offerings, and sold $9 billion of debt on Thursday to get ahead of regional sales. That would be about a third of the nation's $30 billion in financing needs this year, according to comments from government officials, and about 40 percent of that will be issued in hard currencies. While the peso is forecast to be relatively stable over the next year, concern that Argentine President Macri may not deliver on promises to tame inflation will weigh on bonds in 2018. Demand ran more than 2.4 times higher than what Argentina offered the last time it sold debt.
Chile
Chile's peso led Latin American currency returns last year as traders correctly bet on Sebastian Pinera's return to the presidency. The billionaire cruised to victory in a December run-off and will start his second term in March. Investors will also track a downturn in Chinese home-buying, which could adversely affect copper prices that align closely with the nation's assets. Last week's regular Bloomberg poll showed that almost half all traders and analysts expect copper prices to rise.
Colombia
Less than two years after ending a five-decade civil war, Colombia will elect a new leader from a crowded field. Still, economic weakness and a failed effort to raise enough revenue through tax increases led S&P Global Ratings to downgrade the nation one notch from junk territory last month. S&P said it will be challenging for the incoming president to comply with the nation's fiscal rule, or balanced-budget act, in coming years.
After a bout of currency weakness, some traders are betting on a 2018 rebound. Renaissance Capital says the peso is almost 40 percent undervalued.
Peru
President Pedro Pablo Kuczynski caught no breaks during his first full year in office. After narrowly surviving an impeachment drive in December, his public support dwindled further when he pardoned controversial former leader Alberto Fujimori from jail. While Peruvian investor anxiety has receded since the impeachment vote, the president remains under investigation for his ties to Brazilian construction giant Odebrecht and could face another vote should anything more be uncovered.
Investors fear impeachment could lower Peru's growth forecast and potentially open the gates for an outsider candidate such as Veronika Mendoza, a left-wing former lawmaker who finished third in the 2016 race.
(
Corrects analysis of Brazilian debt performance in 7th paragraph to show that both hard and local currency debt rose; removes analysis of Argentine debt in the 11th paragraph because data was incomplete.
)
Before it's here, it's on the Bloomberg Terminal.
LEARN MORE