Democrat Steyer Says He'll Spend $30 Million on U.S. House Midterms
By
Billionaire declined to rule out presidential run in 2020

Decision provides some clarity to California politics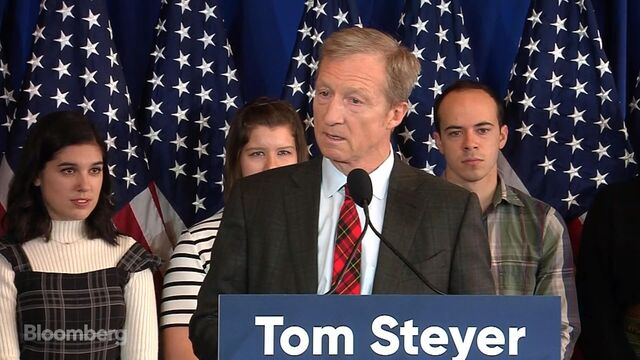 Billionaire Tom Steyer pledged on Monday to spend $30 million through his NextGen America organization to help Democrats win congressional seats in the 2018 midterms.
Steyer, who has boosted his national profile with a recent series of television ads calling for the impeachment of President Donald Trump, said he won't run for office himself in 2018. "That's not where I can make the biggest difference," he said at a news conference in Washington.
The mega-donor helped create what began as the NextGen Climate network in 2012 after leaving Farallon Capital Management, the hedge fund he co-founded, to devote himself to conservation. In 2016, the group focused on mobilizing young voters around climate change policies.
Steyer said he'll use his money similarly in 2018 and will initially focus on House races in 10 states: Arizona, California, Florida, Iowa, Michigan, Nevada, New Hampshire, Pennsylvania, Virginia and Wisconsin.
Calls for impeachment from Steyer have frustrated some congressional Democrats who fear they're a distraction and make the party look too partisan. In picking candidates to support this year, Steyer said he won't impose an impeachment "litmus test."
Steyer was the biggest individual political donor in the 2016 election, and his decision removes some uncertainty for California's races for governor and U.S. Senate. When asked about his plans after the midterms, Steyer declined to rule out a potential presidential bid in 2020.
"We have taken a disastrous turn," he said of Trump's presidency and Republican control of Congress. "There can be no arrogance. There can be no overconfidence."
The NextGen effort will seek to contact more than half a million young voters ahead of November's election, while trying to register more than 250,000 of them. "Donald Trump woke a sleeping giant," he said of the youth vote.
Before it's here, it's on the Bloomberg Terminal.
LEARN MORE