China's Landmark Sovereign Dollar Bond Leaves Bitter Taste
By and
China's $2 billion dollar notes handed investors 0.73% losses

The bonds provided little cushion for UST uptick, says Nomura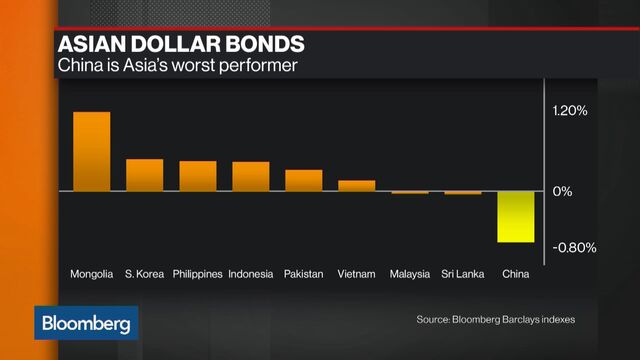 China's first sovereign dollar bond in more than a decade has done poorly for investors who scrambled to get a piece of the rare offering amid overwhelming demand. The tight pricing of the notes, lauded by China's finance ministry, had a lot to do with it, according to analysts.
The $2 billion securities sold in late October handed investors 0.73 percent of losses in the last two months of 2017, one of the few Asian nations that saw their government bonds generate negative payback during the period. 
"China's sovereign bonds were priced at tight spread levels, providing little cushion for increases in underlying U.S. Treasury yields, leading to their under-performance over the past two months," said Nicholas Yap, a credit desk analyst in Hong Kong at Nomura International (HK) Ltd. "We continue to see limited value in the notes."
In a bid to serve as a benchmark for the nation's surging dollar corporate bonds, China's government priced its debentures at a lower premium than those of South Korea, which is rated two steps higher by S&P Global Ratings. The effect proved short-lived as spreads on state-owned company bonds, which compressed leading up to the offering, reversed the gains since the sovereign bonds were sold.
The jump in issuance from Chinese companies toward the end of the year was also to blame for the under-performance of both the sovereign and quasi-sovereigns, said Cary Yeung, Hong Kong-based head of greater China debt at Pictet Asset Management. Chinese firms sold $48 billion of dollar notes in November and December combined, a record for the period and nearly double the second highest amount achieved in 2014.
 
"Some investors also see the sovereign papers being priced at the tight end and therefore have less incentive to add more bonds," he said.

China may have to visit the dollar market more often in order to truly set a funding benchmark for the nation's corporations, analysts have said. The last time the country tapped the dollar bond market before October was in 2004 for a five-year $500 million deal. 
Chinese state-owned firms and banks need lower dollar-funding costs as they are expected to increase greenback bond offerings to partially fund President Xi Jinping's signature global initiative -- the "belt and road" project.
The country will study follow-up plans for offshore sovereign debt sales and make decisions in a prudent manner, according to Xinhua report in October, citing Vice Finance Minister Shi Yaobin. Shi also said the results of the dollar bond sale reflect investors' expectations for stable economic growth and steady fiscal and financial operations in China.
The nation can access the markets anytime and build their curve with further dollar bond sales, according to Joanne Wong, head of debt capital markets at Bocom International Holdings Co. The issuer will continue to captivate a large investor following and pricing will continue to be tight, she said.
"It would not surprise me if they came to market again in 2018, to be consistent with its Dim Sum sales, where they commit to issuing to provide a curve," said Brad Gibson, a fixed-income portfolio manager at AllianceBernstein LP in Hong Kong, referring to the Chinese government.
China may again sell at a tight level, Gibson said. "They could probably issue at whatever spread they wanted," he said.
— With assistance by Narae Kim, and Karen Pang
Before it's here, it's on the Bloomberg Terminal.
LEARN MORE