South African Parliament to Review Presidential Impeachment Rules
By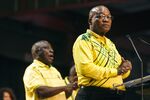 South Africa's lawmakers will deliberate on a draft procedure relating to the removal of a sitting president of the country.
The move follows a December ruling by the nation's highest court, which said that the National Assembly failed to hold President Jacob Zuma to account as required by section 89 of the country's constitution.
A subcommittee will meet on Jan. 10-11 to discuss the matter, the parliament said in a statement. Once the draft procedure is finalized by the subcommittee, it will be sent to the house of parliament for debate.
Before it's here, it's on the Bloomberg Terminal.
LEARN MORE