Merkel Calls for Deal as Make-or-Break Government Talks Begin
By
'We have to reach agreement,' chancellor's Bavarian ally says

Europe's top economy stuck in extended political stalemate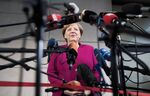 Chancellor Angela Merkel said Germany needs a stable government to tackle "enormous" tasks ahead as she began make-or-break talks to renew her alliance with the Social Democrats and open the door to a fourth term.
More than three months of post-election stalemate in Europe's biggest economy are focusing minds as Merkel, 63, seeks to avoid facing voters again or governing without a majority. The acting chancellor's Christian Democratic-led bloc and the SPD began exploratory talks on Sunday amid a growing sense that their political futures are at stake.
"Our intention is to work very swiftly, very intensely," Merkel told reporters in Berlin as talks began. "I'm going into these talks with optimism, though it's clear to me that a huge amount of work lies ahead."
Read more: Why Germany's 1930s collapse suggest Merkel will get her coalition
Merkel is regrouping after her attempt to build a patchwork government with the pro-market Free Democrats and the Green party collapsed in November, leaving German decisions on hold on everything from euro-area policy to government spending, migration and social programs. She's governed with the SPD for eight of her 12 years in office in a "grand coalition" of Germany's two biggest parties.
"This is a special political situation," Lars Klingbeil, the SPD's general secretary, told reporters after negotiators met for almost 12 hours on Sunday. "All of us are aware of our responsibility for Germany and for Europe."
Read more: Merkel's coalition plan faces increasingly skeptical public
The two sides want finish exploratory talks by Thursday. If there's enough common ground, SPD leaders would ask a party convention on Jan. 21 to back full-fledged negotiations on a policy blueprint for a government. Many SPD members are wary of serving as Merkel's junior partner for a third time after the party's support plunged to the lowest level since World War II in the federal election.
"What I know is that we have to reach an agreement," said outgoing Bavarian state premier Horst Seehofer, 68, whose Christian Social Union is part of Merkel's bloc. The talks resume on Monday.
Obstacles Ahead
SPD leaders are taking a conciliatory stance after initially ruling out a rerun of the grand coalition. "We aren't laying down any red lines," SPD chairman Martin Schulz, 62, told reporters.
Potential flashpoints include health-care spending, taxes and immigration policy, notably the right of family members to join asylum seekers already in Germany. In another hurdle, the SPD will put any coalition pact to a membership vote.
Merkel's CSU sister party is taking the hardest line on migration after Alternative for Germany became the first far-right party to win seats in the federal parliament since the 1950s in the wake of Europe's refugee crisis.
On Europe, the SPD is pressing Merkel to be more accommodating to French President Emmanuel Macron's push for greater integration among euro member countries. Merkel and her Christian Democratic Union have remained mostly noncommittal.
Caretaker Chancellor
Merkel has governed as acting chancellor since emerging victorious from an inconclusive election in September that saw the CDU-CSU's support drop to 32.9 percent, the lowest since 1949. Alternative for Germany, or AfD, took 12.6 percent, becoming the third-biggest party in parliament after vilifying Merkel for refusing to shut Germany's borders to refugees.
"The tasks ahead, for which we have a mandate from voters, are enormous," Merkel said. "The CDU's goal in these talks is to create the conditions for forming a stable government."
Before it's here, it's on the Bloomberg Terminal.
LEARN MORE