politics
Stronger May Finally Ready for U.K. Cabinet Reshuffle
Jill Ward and Flavia Krause-Jackson
Embattled U.K. prime minister shed three ministers in 2017

She defied odds to see Brexit talks through to the next phase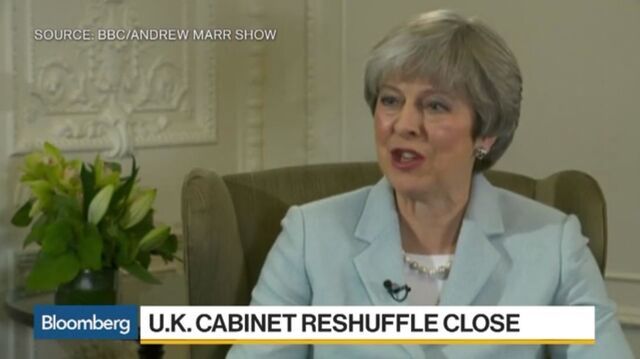 Follow @Brexit for all the latest news, and sign up to our daily Brexit Bulletin newsletter.
Theresa May bid farewell to 2017 by firing her deputy and is starting the new year with a Cabinet reshuffle, a sign the British prime minister is intent on seeing Brexit to completion and fighting another election.
That's a change in circumstances for a leader often derided in 2017 as so weak that she might not last to Christmas after the disastrous June election, plots to oust her, and a jinxed performance at her Conservative Party's annual conference. The latest YouGov opinion poll shows the Tories nudging back above their main opposition -- albeit by a mere single percentage point.
The ever-changing fortunes of the U.K. leader are a reflection of the instability that's become a fixture of the country's political landscape since the historic referendum of 2016 that sent the world's fifth-biggest economy on a path to exiting the European Union.
May came to power on the back of that vote, and her fate has become inextricably linked to the outcome of a messy divorce process that's just through its first stage of completion. The perception that she's only about Brexit is one she's trying to change, with an injection of new blood into the Cabinet without disturbing the delicate balance of pro and anti-EU voices at the top.
Change 'Soon'
In her first interview of 2018, the first question asked of May was whether she was now "strong enough" to pull off a reshuffle that's been speculated about for months. This time, she didn't demur and conceded that the makeover "will be soon, yes."
"Well, it's no prizes for guessing," she said Sunday in a recorded interview for the BBC's "Andrew Marr Show." The departure of her right-hand man Damian Green before Christmas "means that some changes do have to be made, and I will be making some changes."
That begs the question about the degree of the overhaul, which according to the latest newspaper accounts is unlikely to touch Boris Johnson, the biggest thorn in May's side.
The foreign secretary has defied May repeatedly and committed the kinds of gaffes that would typically get other ministers fired. But his special position in anti-EU circles as a guarantor of Brexit have kept him in place and underscored May's difficult position in managing warring Tory factions.
New Blood
What's expected from the reshuffle is the promotion of fresher faces from a younger and more diverse generation of Conservatives -- an attempt to alter the image of a party seen as out of touch compared to Labour, which was able to convince apathetic young Brits to cast their vote in June.
According to the Sunday Times, Health Secretary Jeremy Hunt or Transport Secretary Chris Grayling could step into Green's shoes while Johnson, Chancellor of the Exchequer Philip Hammond, Brexit Secretary David Davis and Home Secretary Amber Rudd will stay put.
Those slated to move or be given the boot include Conservative Party chairman Patrick McLoughlin, Education Secretary Justine Greening, Business Secretary Greg Clark, and leader of the Commons Andrea Leadsom, the newspaper said.
Among those tipped for ministerial posts are Suella Fernandes, head of the European Research Group comprising euroskeptic Tory backbenchers, and Tom Tugendhat, chair of the Foreign Affairs Select Committee and a man who's shown open interest in becoming prime minister one day.
See You in 2022
Back in August, the thought of May being around to stand for re-election was deemed laughable within her own party. But she's on the record during her last overseas trip that she's "in it for the long term." And the man who dealt her a stinging defeat in parliament over her flagship Brexit legislation agrees she'll last the course.
"My view is that the prime minister is likely to be in office till 2022," Dominic Grieve, the former attorney and Tory rebel, said on the LBC Radio show. He's made the case that draft legislation transposing EU law into the U.K. statute books would give the government too much power and shut out Parliament.
According to Grieve, the only thing that could bring May down is if the Northern Irish party propping up her government decides to withdraw support. And that's a possibility at some point given that the problem of what to do with the Irish border post-Brexit has been parked to allow negotiations to move on to trade.
Those talks will begin in earnest in March, with the idea being that the contours of a trade agreement will emerge in October. That could all unravel, though, and it remains to be seen how May will achieve her aim that it include financial services -- the motor of the British economy -- when many in Europe are keen for a slice of that lucrative business.
After Brexit, May on Sunday said she wants "to fight" the next election set four years from now, repeating the line that she is "not a quitter."
"Obviously, I serve as long as people want me to serve," May said.
Before it's here, it's on the Bloomberg Terminal.
LEARN MORE