politics
Venezuelan Generals Accused of Abuses in Fresh U.S. Sanctions
By
They are said to empower gangs and grifters, attack protesters

Over the past year, America broadened its web of punishment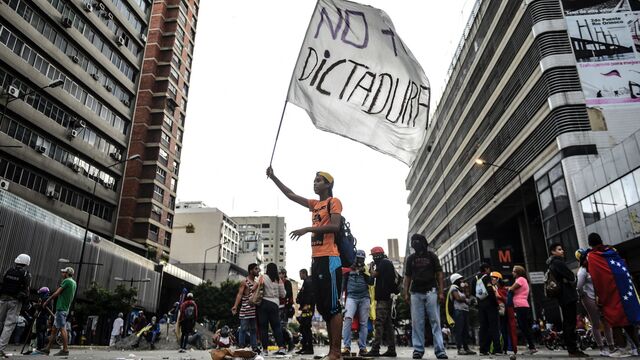 The U.S. Treasury Department slapped sanctions on four Venezuelan military men Friday, accusing them of corruption and rights abuses as the Trump administration intensifies pressure on the South American nation's socialist regime.
The active and former generals include Rodolfo Marco Torres, an ex-finance minister and the current governor of Aragua state. They are said to have profited from food-importing schemes, empowered local gangs and directed a violent crackdown on street protests against President Nicolas Maduro, according to the Office of Foreign Assets Control. Their assets under U.S. jurisdiction are frozen and all citizens are prohibited from dealing with them.
"President Maduro and his inner circle continue to put their own interests above those of the Venezuelan people," Treasury Secretary Steven Mnuchin said in a statement.
Over past year, the Treasury Department blacklisted numerous top-ranking officials, including Maduro and many of his ministers, as the Venezuelan economy collapsed and the government quashed unrest. The Trump administration has also clamped down on the Venezuelan government's finances, imposing sanctions that prohibit Americans from holding new bonds the government would issue as it restructures its massive foreign debt.
Before it's here, it's on the Bloomberg Terminal.
LEARN MORE