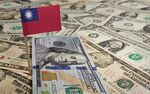 Taiwan's chief financial officers have a problem.
Their currency is among Asia's top performers, strengthening 8 percent against the dollar over the past 12 months.
In July, Taiwan Semiconductor Manufacturing Co., with a 19 percent weight on the benchmark Taiex, said that quarterly revenue guidance will now be given only in U.S. dollars, considering almost all the company's revenues are in that currency.
Had TSMC continued to provide guidance in local currency, its outlook would have been a lot dimmer. The world's largest contract chipmaker expects sales to have expanded 10 percent in the quarter through Dec. 31. Considering Taiwan's dollar rose 2 percent over that period, actual growth would be in single digits.
Taiwan's stock market is chock-full of exporters. On a market-cap weighted basis, companies on the Taiex generate an average 48 percent of their revenue offshore, versus 41 percent for South Korea's Kospi. That figure falls to 10.4 percent for companies on the MSCI China Index, Gadfly calculations show. A stronger currency also cuts into a firm's bottom line through foreign-exchange effects.
There's little Taiwan's central bank can do to help. As the world's reserve currency, the U.S. dollar tends to weaken when the global economy improves, and Taiwan's economy is forecast to expand 2.6 percent in 2017 versus 1.4 percent in 2016.
Taiwan last year avoided appearing on the U.S. Treasury's currency monitoring list, which is only one rung above the feared manipulators list. Taiwan's current account surplus, at 13 percent of GDP, is well ahead of the Treasury's 3 percent comfort zone. In the first half of 2017, net foreign currency purchases were roughly half those of the same period of 2016.
After five consecutive months of selling, international investors have started 2018 with a bang, purchasing more than $600 million of Taiwan stocks in the new year, helping the Taiex recover nicely from its December rout.
Underpinning much of the buying is optimism over better earnings. In the past month, sell-side analysts have raised their forecasts by an average 2.9 percentage points.
Have they factored in the stronger Taiwan dollar? If not, earnings season, which kicks off next week, is sure to result in a few (unwelcome) surprises.
Before it's here, it's on the Bloomberg Terminal.
LEARN MORE