Taiwan's Leader Says China's 'Destabilizing' Moves Threaten Region
By
Tsai cites military patrols and encroaching commerical flights

Feud between old rivals has heated up in recent months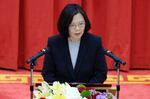 Taiwanese President Tsai Ing-wen warned for the second time in a week that China's escalating efforts to assert its authority over the island risked destabilizing the broader region.
In a tweet Friday, Tsai cited Beijing's approval of commercial flights near the rivals' de facto border over the Taiwan Strait and increased military patrols around the island. "Cross-strait stability is impt to regional stability," she said. "Recent unilateral actions by #China - including M503 flight route & increased military exercises – are destabilizing & should be avoided."
Tsai leveled similar criticism at a year-end news conference, in which she pledged to increase defense spending amid China's growing military activity. While the democratically run Taiwan has been ruled separately since the end of the Chinese Civil War almost seven decades ago, Beijing continues to consider the island a province to be reunited with the mainland. 
Tensions have been building since Tsai -- who's Democratic Progressive Party supports independence -- ousted a more China-friendly government in the island's elections two years ago. On Thursday, Taiwan protested China's "reckless" decision to approve four new flight routes over the strait, which it sees as the latest in a series of Chinese moves to undermine its sovereignty. 
'Correct Attitude'
Ma Xiaoguang, a spokesman for the Beijing-based Taiwan Affairs Office, said Thursday that the routes were intended to relieve air congestion and urged Tsai's government to "take a correct attitude, not make a fuss or hurt cross-strait ties," according to the China Times.
Taiwan has also complained about increased Chinese military activities, including "encirclement patrols" around the island. The PLA released a video on Dec. 18 showing Chinese fighter jets, bombers and surveillance aircraft conducting "routine" patrols near the island. Such flights are the "new normal," PLA Air Force spokesman Shen Jinke said last month.
The U.S. provides military support to the island under the Taiwan Relations Act of 1979, and Congress in September authorized naval visits with Taiwan as part of a defense spending measure. Last month, a senior Chinese diplomat in Washington said that China would "unify" Taiwan with military force if a U.S. warship visited.
Meanwhile, the Taipei-based Mainland Affairs Council on Thursday blocked China's state-owned China Central Television from playing a propaganda ad on large television screens in Ximending, one of Taipei's busiest commercial districts, on ground that it violated regulations. The clip ends with "Believe in China in 2018."
— With assistance by Adela Lin
Before it's here, it's on the Bloomberg Terminal.
LEARN MORE