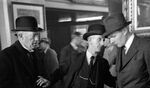 Once, it was normal for big European companies to give major shareholders a heads-up on any share sale in the hope of securing their support before a fundraising was even announced.
This custom of wall-crossing large funds, or giving them material non-public information, was already in retreat before MiFID II came into place this week, but the new rule book strikes a fresh blow against the arrangement.
When a fund crosses the wall, it accepts it can't trade in the company's shares in return for prior knowledge of the details and justification relating to the share placing. There would also be an exclusive chat with the company's management.
This offered something for everyone involved. The company and its investment bank could find buyers for much of the stock before the news became public. Investors could take their time to think about what they were willing to pay for the new shares, and were protected from waking up to a nasty surprise. They might even have got an outsize piece of the share issue, which would usually be sold at a discount to the prevailing stock price.
Companies and their advisers have become warier about all this in the past two years as new regulation on market abuse has increased concern about mishandling price-sensitive information. But MiFID attempts to hammer another nail in the coffin.
Under the rules, investors can receive calls from management about capital-raising for free -- but the information has to be available to everyone. Crossing the wall and paying for the privilege would defeat the object of the exercise for the investor.
In practice, big funds will still be wall-crossed but they can forget their exclusive call. The company can still give those funds large allocations in the new cheap shares, say, to protect them from dilution. But the investment bank has to ensure it can provide a justification for doing so.
Top shareholders can no longer be so sure of getting preferential treatment when a company sells new shares at a discount. Issuers will complain that this makes it harder for them to interact with their principal owners, and argue that this undermines the benefits of doing a placing rather a long-winded rights offering. But it's hard to see how a regulation that forces stock allocations to be justified is a bad thing.
Before it's here, it's on the Bloomberg Terminal.
LEARN MORE