charted
S&P 500 Creeps Higher as January Effect on Track
First month of year has been positive 62 percent of the time since index's inception
By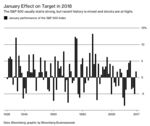 So far in 2018, stocks are bearing out the so-called January effect, a tendency to see gains early in the year, as the S&P 500 Index continues to hit daily records. The first month, which has been positive 62 percent of the time since the index's inception, has been mixed the past ten years. Its worst January ever came in 2009 when it crashed 8.6 percent in the middle of the financial crisis. Curiously, the best January performance came in 1987, when the gauge surged 13 percent, only months before one of the darkest days in market history, Black Monday.
— With assistance by Erik Kurcz
Before it's here, it's on the Bloomberg Terminal.
LEARN MORE