Finance
Landlords Woo Startups With Built-In Clubs and Office Beers
Stodgy office towers around the U.S. are getting millennial-friendly makeovers.
By and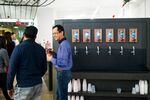 Brian Flaherty, a 25-year-old in green sneakers and a North Face fleece, quaffs his second Lord Hobo. At home, a four-pack normally sets him back $16. Here at work, craft beer is always on the house. Flaherty, naturally, works for a tech company. But he isn't kicking back in a former meatpacking district, or at a hip "co-working" space. He's in the heart of Boston's financial district—at a 32-story office tower, home to button-down businesses such as law firm Nixon Peabody LLP and some offices of 225-year-old financial giant State Street Corp.
To fill vacancies, Blackstone Group LP, the biggest U.S. office owner, is going after startups and their armies of twentysomething workers. In Flaherty's building, 100 Summer Street, Blackstone has installed a private club on the second floor open to employees of companies in the building, with beer and wine taps, a gym with private showers, arcade games, foosball, and baristas who finish off cappuccinos with foam artwork. It even has a startup-style name, Assemblyon2. "Having a cool office when I was a kid meant you worked at Google," says Flaherty, who is on the sales force at Rapid7, a cybersecurity company. "Among my friend group, this is now the coolest office."
Companies in every industry, from autos to retail, have been scrambling to adjust to millennials' tastes and expectations, and commercial real estate is no exception. Blackstone, Brookfield Property Partners LP, Boston Properties, and other big landlords are spending millions to inject Silicon Valley playfulness into aging towers in big cities. They're in an arms race against new construction and co-working businesses such as WeWork Cos. "The way towers were built in the 1980s, they were a monument to the corporation," says Lisa Picard, chief executive officer and president of Equity Office, a Blackstone unit that owns office buildings. "Now, if it feels corporate, that's the kiss of death."

Like Google or Facebook Inc., big landlords can harness the power of scale, spreading the cost of freebies over thousands of employees, most of whom will never set foot in the gym that therefore needs only a few treadmills. In return, they can fill gaps in buildings left by companies' shrinking footprints or moving to fresher digs. Still, the landlords are under pressure. Since the 2008 financial crisis, tenants have been saving money by packing more workers into the same space. The average square footage per employee has shrunk 9 percent in the past seven years, to 181 square feet, according to an analysis by commercial real estate tracker CoStar Group.
New buildings make up for the tighter quarters with open floor plans, breakout rooms, and entertainment spaces. "It's a cultural shift in the office market driven by what people in my generation and the generation before think the millennial generation wants," says 46-year-old Craig Caggiano, executive director of real estate services company Colliers International Group Inc. "The thinking is that millennials like to take their laptop and work in a coffee bar at the base of the building."
Boston's financial district is losing tenants to the fast-growing Seaport area next door and biotech centers such as Cambridge, home to MIT and Harvard. The neighborhood's vacancy rate rose to 11.9 percent in the fourth quarter, up from 8.7 percent two years earlier, says Aaron Jodka, Colliers's director of research for Boston. In Midtown Manhattan, where buildings average 56 years old, large tenants have notified landlords that they're vacating about 8 million square feet over the next few years, according to Colliers. Many, including Wells Fargo & Co. and Time Warner Inc., are shifting to new buildings on Manhattan's thriving far West Side.
Near Wall Street, at One World Trade Center, the tallest building in the Western Hemisphere, workers can stop at the 64th floor for the barista coffee bar, pingpong, table shuffleboard, and yoga classes with floor-to-ceiling views of the Statue of Liberty. "This puts talent at the center of the equation," says Chris Kelly, 35, president and co-founder of Convene, a startup helping landlords remake buildings for millennials. "If you create the best workplace, then you get the best talent." Convene, which manages the year-old amenities area for the Durst Organization, is applying for a liquor license for events at the One World Trade lounge and is working with a landlord to introduce a full-service bar in another New York office building, which it declined to name.
Convene is also operating the amenities in Equity Office's Park Avenue Tower in Midtown, which has a game room and catering facilities, and it's working with Brookfield on a group of buildings in downtown Los Angeles. Blackstone's Willis Tower, the tallest building in Chicago, now has a cafe and full-service bar for tenants.
Even banks are renting tricked-out spaces for software engineers who always are at risk of getting poached by tech firms with sweeter offices. JPMorgan Chase & Co. is leasing more than 400,000 square feet from Brookfield for its new technology hub at 5 Manhattan West. Techies can mellow out with board games or jam in a soundproof room equipped with electric guitars and a drum kit.
Boston Properties is spending about $100 million on 399 Park, the 57-year-old former Citigroup Inc. headquarters, to freshen up its appearance. A new bike valet service for employees of 399 Park and two other nearby Boston Properties towers stores 100 two-wheelers at a time. The landlord is also collaborating with WeWork on a ground-up development at the Brooklyn Navy Yard, the co-working company's first, to be called Dock 72. The 675,000-square-foot building will have rooftop gardens and a food hall.
At 100 Summer Street, Blackstone's Boston tower with the second-floor club, the longest lines are in the morning, for lattes, flat whites, and other coffee drinks made to order. The three baristas serve about 700 free coffees a day, says Pat Walsh, who manages the building. (Bloomberg LP is a tenant.)
The amenities room may have already been partly responsible for luring one tenant to a building that was about 40 percent empty after American International Group Inc.'s Lexington Insurance Co. moved out in 2014. The vacancy rate is now about 10 percent. CloudHealth Technologies Inc. will move from its Seaport location, taking 80,000 square feet at 100 Summer.
Corporate landlords will never be entirely free-spirited. At 100 Summer Street, employees are limited to two drinks a day, and they must sign lengthy waivers releasing the landlord from any liability. Taps are open only from 4:30 p.m. to 7:30 p.m. three days a week. Employees must first place their building badge over a sensor before pouring a cup of beer or wine. Like the world's least generous bartender, the system automatically stops after 24 ounces of beer. Even then, one tenant, whom the landlord won't name, has blocked its employees from drinking. It's a law firm, of course. 
BOTTOM LINE -
Commercial real estate companies have had to adjust to competition from co-working spaces, while tenants pack employees into smaller offices.
Before it's here, it's on the Bloomberg Terminal.
LEARN MORE