politics
Finnish President Nears Re-Election With 72% Backing, Poll Says
By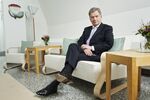 Finland's President Sauli Niinisto is likely to win re-election for his second six-year term in the first round of the election on Jan. 28, according to a poll published by YLE.
Niinisto is backed by 72 percent of Finns, far ahead of his closest challenger, Pekka Haavisto of the Greens, who has a 11 percent approval rate. Niinisto's popularity has declined by 8 percentage points from its November peak. Niinisto needs more than 50 percent of votes to win the presidency in the first round, and failing that, a second round will be held Feb. 11.
Niinisto is seen as one of the most active Western leaders in engaging with Russia. His main influence is in leading Finnish foreign policy in co-operation with the government and his domestic powers are limited. A survivor of the tsunami that hit Southeast Asia in 2004, Niinisto, 69, is expecting a child this year with his 40-year-old wife. He has two grown-up sons from a previous marriage.
The poll was conducted by Taloustutkimus Oy, who interviewed 1,363 people between Dec. 19 and Jan. 3. The margin of error is about 1.9 percentage points.
Before it's here, it's on the Bloomberg Terminal.
LEARN MORE