EM Review: Last Year's Winning Run Extends to First Week of 2018
By , , and
MSCI's EMFX Index has rallied more than 20% from a year ago

Latam currencies lead world gains amid rising commodity prices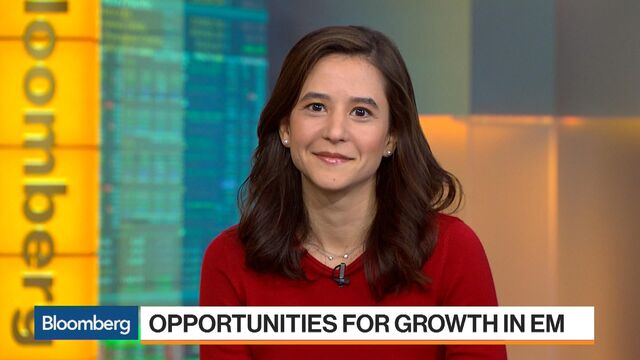 Emerging-market assets extended last year's winning streak to the first week of 2018 as a weak dollar, low global yields and optimism over global growth boosted demand for developing-nation stocks and bonds.
The MSCI Emerging Markets Index of equities climbed 3.8 percent this week, its best performance since July, while the MSCI Emerging Markets Currency Index gained 0.9 percent. A Bloomberg Barclays index tracking the EM local-currency government bonds had its best week in almost six months.
Highlights for the week ended Jan. 5:

The Colombian peso was the best-performing currency during the week, rising 2.8 percent against the dollar, on the back of higher oil prices
North Korea accepted a proposal to hold talks with South Korea on Jan. 9 aimed at reducing tensions ahead of the Winter Olympics next month. Gains in the won, which reached a three-year high in the week, were partly driven by signs of an easing of tension between the two neighbors
Foreign funds piled into South Korean and Taiwanese stocks, buying more than a net $2 billion of equities from the two markets
MSCI's emerging-market currency index extended an 11-day winning streak, up more than 20% from Jan. 2016 low.
Asia:

EMEA:
Angola said it was ready to scrap its dollar peg in a further sign of the new president's commitment to an economic overhaul that may set the stage for IMF aid and a eurobond sale
Turkish banker Hakan Atilla was convicted of helping Iran evade U.S. financial sanctions after a month-long trial that threatens to strain relations between Turkey and the U.S. The lira weakened after the verdict
South African rand extended gains for a 6th straight week amid reports that the ruling ANC is to consider ousting President Jacob Zuma.
Latin America:
Argentina sold $9 billion of bonds and said demand totaled $21.4 billion. The nation's peso extended losses this week amid unwinding of carry trade and risks of interest rate cuts after the central bank raised its inflation target last week.
Latin American currencies, aside from the Argentine peso, all advanced amid rising commodity prices. Chile's peso rallied towards 600 this week, reaching the highest level since May 2015.
The privatization of Brazil's state-owned utility Eletrobras remains a contentious subject among lawmakers within the ruling coalition after President Michel Temer signed a measure last week paving the way for the process.
Upcoming data:
Monday, Jan. 8
Taiwan
Dec. trade balance
Indonesia
Dec. foreign reserves
Chile
Dec. CPI, trade balance
Hungary
Nov. industrial production
Turkey
Nov. industrial output
Romania
Interest rate announcement
Tuesday, Jan. 9
Mexico
Dec. CPI, international reserves
Brazil
Nov. retail sales
Argentina
Monetary policy decision
Hungary 
Nov. trade balance
Wednesday, Jan. 10 
China
Dec. CPI
South
Korea
Dec. unemployment rate, Nov. industrial production
Brazil
Dec. IPCA Inflation 
Poland
Monetary policy decision
Hungary
Central bank minutes
Russia
Dec. CPI
Czech Republic
Dec. CPI, 3Q GDP
Thursday, Jan. 11
Malaysia
Nov. industrial production
Mexico
Dec. consumer confidence
Peru 
Monetary policy meeting
South Africa
Nov. manufacturing
Russia
Weekly gold and foreign reserves
Friday, Jan. 12
Romania
Dec. CPI, 3Q GDP
India
Dec. CPI, Nov. industrial production
Before it's here, it's on the Bloomberg Terminal.
LEARN MORE