business
Deutsche Bank Trading Slump Ratchets Up Pressure on CEO Cryan
By and
Bank warns on profit while announcing $1.8 billion tax charge

Deutsche Bank expects small annual loss on non-cash charge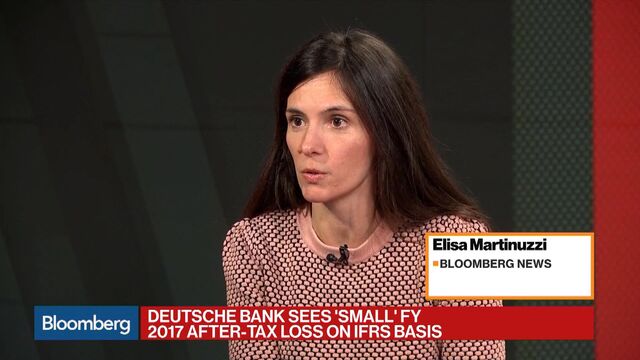 Deutsche Bank AG's sustained trading slump is increasing pressure on Chief Executive Officer John Cryan to prove he can win back investment-banking market share.
Revenue at the securities unit slumped about 22 percent in the final quarter because of persistent low volatility in markets and muted client activity, the bank said in a statement on Friday. Analysts had expected trading revenue to rebound from a year earlier, when fears about the bank's financial strength had caused a slump in market share at the unit.
Cryan is getting no closer to delivering the expansion that investors are demanding after unveiling the bank's third strategy revamp in as many years in March and pledging to return to "controlled growth." The executive is losing the support of some large shareholders, people with knowledge of the matter said in October, ahead of a dismal third quarter in which the trading business under-performed U.S. peers.
"Cryan has staked his tent on the investment bank so the investment bank has to perform for him," said Robert Kendrick, a London-based credit analyst at Schroder Investment Management Ltd. "Deutsche Bank doesn't really have anything else. If they're not an investment bank, then they're nothing."
Deutsche Bank fell as much as 5.9 percent after the release, the biggest drop in almost a year, and declined 5.2 percent in Frankfurt on Friday.
The bank's leadership has "perhaps another two quarters" to prove that its strategy works, said Ingo Speich, a fund manager at Union Investment, which owns about 0.23 percent in Deutsche Bank. "Cryan is responsible for this strategy."
Annual Loss
The bank, in a statement on Friday, also said it will probably record a third consecutive annual loss in 2017 after accounting for the decreased value of its deferred tax assets in the U.S., a credit it can use to lower future tax payments. Deutsche Bank will take a charge of 1.5 billion euros ($1.8 billion) in the final three months to account for the legal change.
While Wall Street banks struggled with calm conditions before the fourth quarter, Kian Abouhossein, a JPMorgan Chase & Co. analyst in London, had predicted that the firm would increase fixed-income trading by 14 percent to $1.7 billion and equities trading by 16 percent to $554 million.
The growing pressure on Cryan as well as the appointment last March of two deputy CEOs, Marcus Schenck and Christian Sewing, has fueled speculation about potential successors.
Schenck "has shown a good performance and has realistic chances to get the top job," said Michael Huenseler, a fund manager at Assenagon Asset Management, which owns Deutsche Bank stock. Martin Wilhelm, a general manager at IfK, a fund manager with over 900 million euros of assets under management, said the executive wouldn't make a good replacement.
Tax Cut
The revaluation of the bank's deferred tax assets became necessary after U.S. President Donald Trump decided to cut the corporate tax rate from 35 percent to 21 percent. Other banks including Morgan Stanley, Credit Suisse Group AG and Bank of America Corp. have all reported that the tax reform will require them to write down their assets.
The writedown will have a 10 basis-point impact on Deutsche Bank's regulatory capital situation, the bank said. Its common equity tier 1 ratio, a key metric of financial strength, stood at 13.8 percent at the end of the third quarter. The bank will have a small full-year after-tax loss because of the change, it said. The 22 percent decline in trading revenue excludes the impact of debt valuation adjustments in the fourth quarter and a year earlier.
Deutsche Bank will report earnings for the fourth quarter and the full year on Feb. 2. Cryan said in a newspaper interview in July that he expected the lender to make a profit in 2017.
"Cryan should go," IfK's Wilhelm said. "I give Cryan 15 more months at most but he might leave even before that given the rising pressure from shareholders."
— With assistance by Nicholas Comfort
(
Updates with comments on Cryan throughout.
)
Before it's here, it's on the Bloomberg Terminal.
LEARN MORE