politics
Bannon-Trump Fight Roils Already Heated Wisconsin GOP Race
By
Ex-Trump strategist has become flashpoint in Senate contest

Two top Republican donors also facing off in backing rivals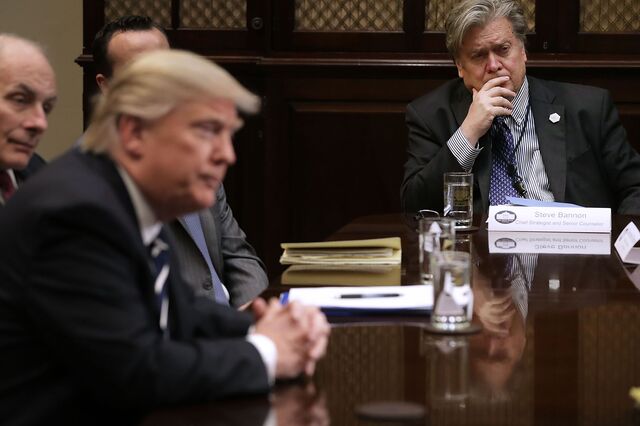 The high-profile rupture between President Donald Trump and his former chief strategist is already roiling a key U.S. Senate primary in Wisconsin, where Republicans face an early test of party unity and fundraising ahead of the 2018 midterms.
The contest between Leah Vukmir, a state senator, and Kevin Nicholson, who is backed by Steve Bannon, was already vitriolic. So much so that the state's Republican leaders pressed the candidates to pledge to campaign in a civil manner, endorse the winner and keep their focus on working against Tammy Baldwin, one of 10 Senate Democrats who face re-election this year in states that Trump won in 2016. 
Just as the unity pledge was being unveiled on Wednesday, the fight between the president and his former strategist erupted over Bannon's disparaging comments in a new book.
Disavow Support
Before day's end, Vukmir called on Nicholson to disavow Bannon's support. 
So far, Nicholson has declined to do so.

It's a scenario that could be repeated in races across the country, since Bannon has supported candidates in West Virginia, Arizona and Nevada, among other states.
The Bannon-Trump turmoil comes as Democrats could be poised for gains in November with the president's approval ratings at historic lows. Typically, the party that doesn't hold the White House almost always picks up seats in the mid-terms. Democrats need a net gain of 24 seats to win the House and two to secure a majority in the Senate. Analysts suggest their chances are better in the House because they are defending far more Senate seats than Republicans and only have a few strong pick-up opportunities.
Mercer Rebuke
Bannon's main financial backer, conservative donor Rebekah Mercer, cut ties with him Thursday, a day after Bannon's comments about Trump and his family in the book "Fire and Fury," by Michael Wolff, became known.
Bannon's churn in the Republican Party extends beyond the conflict with Trump. He's also engaged in a philosophical war with Senate Majority Leader Mitch McConnell over the party's direction and recruitment of candidates. Nicholson, a businessman and Marine Corps veteran, is one of the candidates Bannon is backing as he works to fill the Senate with enough loyalists to accomplish his stated goal of ousting McConnell. 
Andy Surabian, a former White House aide who serves as a top Bannon political deputy, didn't return a phone call seeking comment.
Vukmir Credentials
Vukmir is aligned with the Republican establishment that Bannon, the executive chairman of Breitbart News, often assails. Still, she has pro-Trump credentials after being featured in a radio ad shortly before the 2016 election where she voiced support for the Republican nominee. She met with Bannon last year, but her campaign says she wasn't pursuing his endorsement.
Bannon was strongly criticized by McConnell and other Washington Republicans after Roy Moore lost a special election last month in Alabama to Democrat Doug Jones, a contest that narrowed the Republican Senate majority to 51-49. Bannon had persuaded Trump to back Moore, who stood accused of inappropriate sexual contact with teenage girls decades ago.
The Wisconsin Senate race is also attracting support from national figures. Former U.S. diplomat John Bolton said this week that his super PAC is launching the first phase of a "projected million-dollar advertisement campaign" to support Nicholson. Wisconsin television, radio and online ads are to run through Jan. 19.
Nicholson Endorsements
That spending follows Nicholson endorsements from the Bannon-affiliated Great America PAC in October and the conservative Club for Growth in August. Earlier this week, Nicholson also won the endorsement of Senator Ted Cruz of Texas, whose 2016 presidential campaign won support from the party's anti-establishment wing.
The Club for Growth has tried to paint Vukmir as a "Republican in name only," or RINO, even though she has a long record of voting for conservative measures tied to Governor Scott Walker's agenda. Vukmir has argued that she's been a "consistent conservative," while raising questions about Nicholson being a Democrat during his college years.
Mega-Donor Involvement
Adding to the race's high stakes, two mega Republican donors are facing off in backing the rival candidates: building products mogul Diane Hendricks and packaging supply king Richard Uihlein.
The involvement of Hendricks and Uihlein could fuel a battle that lasts until the mid-August primary. That would leave just two-and-a-half months for Baldwin, the Democratic incumbent, to be the sole focus of Republican attacks.
Hendricks, who made her fortune in roofing supplies and has dined with the president at his New Jersey golf course, has signed on as finance co-chair for Vukmir. Uihlein, an Illinois resident who owns a Wisconsin shipping and packaging materials company, has already donated $3.5 million to a super PAC backing Nicholson.
A Uihlein representative in Washington declined to comment, while an assistant to Hendricks didn't respond to an email seeking comment.
Some Wisconsin Republicans worry the added money could make history repeat itself, as they recall their party's 2012 Senate primary. In that race, a largely self-financed candidate, Eric Hovde, kept the heat on former Governor Tommy Thompson, as Baldwin also bashed him. Thompson defeated Eric Hovde, a banker and investor, by 3 percentage points in the primary, but the damage was done and he lost to Baldwin.
"There's no doubt this is going to be a hard fought primary and the question will be how conscious will Leah Vukmir and Kevin Nicholson be of leaving the victor mortally wounded," said Brandon Scholz, a longtime Republican operative in Wisconsin and former state party director.
Before it's here, it's on the Bloomberg Terminal.
LEARN MORE