politics
Bannon's Clout in Question After Donor Drops Him
By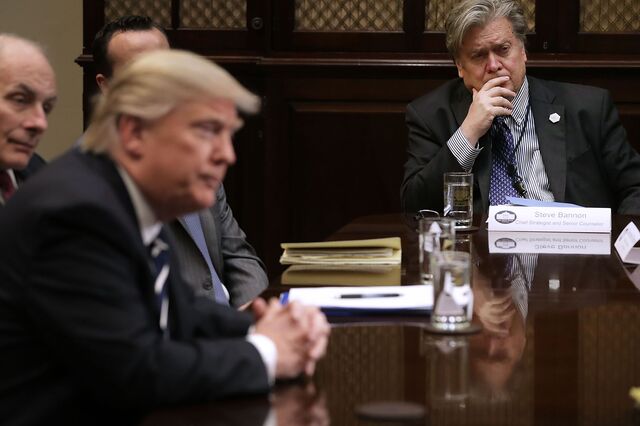 Want to receive this post in your inbox every morning? Sign up for the Balance of Power newsletter, and follow Bloomberg Politics on Twitter and Facebook for more.
Steve Bannon's populist revolution lost its most powerful weapon in his dramatic split with President Donald Trump. Now, it's losing its biggest financier.
The Mercer family, which backed Bannon through his unlikely rise from filmmaker to kingmaker, cut ties with the former Trump strategist yesterday. Rebekah Mercer said she and her former hedge fund executive father, Robert Mercer, would no longer finance his projects.
The move deprived the Breitbart News chief of a vital ally in his bid to challenge establishment Republicans in this year's midterms. Bannon's decline might help the party avoid more embarrassments like its Senate defeat in Alabama.
But Bannon's isolation does little to bridge fundamental party divides, as the glow from passing last month's sweeping tax overhaul fades. Trump and his congressional allies can't afford to alienate the white, middle-class voters who propelled them to power, including some who view Bannon as a standard-bearer.
In Wisconsin, the infighting was already roiling party efforts to unseat Democratic Senator Tammy Baldwin, as Republican Leah Vukmir called on her Bannon-backed primary opponent — Kevin Nicholson — to disavow his endorsement.

Global Headlines
Pressure on Sessions | Trump directed top White House lawyer Don McGahn to persuade Attorney General Jeff Sessions not to recuse himself from the Justice Department's Russia-meddling investigation. The revelation, first reported by the New York Times, has raised new questions about whether Trump or his aides sought to obstruct the Russia probe.
Korean reunion | North and South Korean officials were set for their first high-level talks in more than two years on Tuesday, after Kim Jong Un agreed to discuss participating in the upcoming Winter Olympics. The meeting, in which South Korea will reportedly propose jointly hosting next month's Games, will be closely watched for signs of a strategic gap between South Korean President Moon Jae-in's conciliatory approach and Trump's hard line. 
U.S. raises the heat on Pakistan | The U.S. suspended $255 million in military aid to Pakistan, as Trump follows through on threats to cut off support unless Islamabad does more to fight terror groups. The move was seen as unlikely to alter Pakistan's long-term interests, especially now that the country benefits from more than $50 billion in infrastructure loans from China.
Pot blowback | The U.S. Justice Department's crackdown on marijuana-legalization efforts by the states will add to the political headaches of Republicans trying to preserve their Congressional majorities in a challenging midterm election year. The move, which some lawmakers are already pledging to fight, spoils the euphoria in the weed industry after California launched a legal marketplace Jan. 1. 
Whispers of Weimar | As Germany labors to form a viable government, Chancellor Angela Merkel is drawing on a lesson from history. The country's first democratic experiment, the Weimar Republic, collapsed amid infighting, ultimately letting the Nazis seize power in 1933. As Patrick Donahue reports, it's a warning that resonates today, meaning German politicians will likely compromise for the good of the country. 
And finally... The Spanish government might have declared Catalonia's bid for independence over, but the region's most famous resident is taking no chances. El Mundo newspaper reports that Lionel Messi, the Argentinian soccer star, has a clause in his new contract allowing him to leave Barcelona FC if a split from Spain leaves the club unable to compete in one of Europe's major leagues.

— With assistance by Mark Williams
Before it's here, it's on the Bloomberg Terminal.
LEARN MORE