The MiFID-Driven Boom Seen in Europe ETFs Has One Major Flaw
By and
Lack of 'consolidated tape' in scattered ETF market an issue

Majority of Europe ETF market is traded outside of exchanges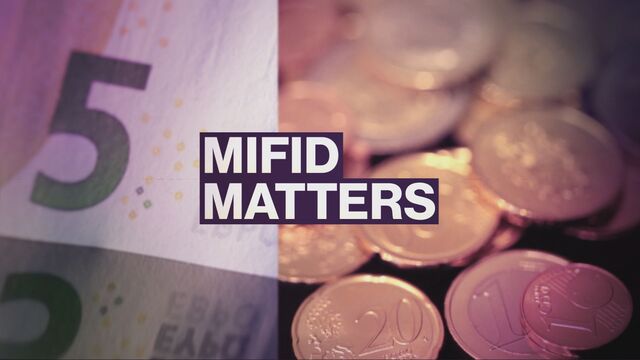 Europe's new MiFID II law is seen as a game changer for the region's ETF market, but one thing is missing that could really help it take off.
Europe's market for exchange-traded-funds, scattered across the bloc's dozens of countries, still lacks a single reporting source -- called consolidated tape. Without such an electronic tracker to provide real-time volume and pricing data, MiFID's intended goal of improving transparency will be a tall order.
The Markets in Financial Instrument Directive II is being hailed for its promise to more than double ETF assets in the region to about $2 trillion in five years and help bring the market up to speed with its Goliath U.S. counterpart. The sweeping regulations will, for the first time, require every ETF transaction to be reported -- a huge change for a market currently dominated by opaque, behind-the-scenes trading.
"It would be a game-changer for volumes if we can create a consolidated tape like in the U.S. market, to provide a real overview of European ETFs," said Stephen Cohen, who leads BlackRock Inc.'s ETF business in Europe, Middle East and Africa. "It can be challenging for investors to get a full picture of trading volumes of a product listed across multiple exchanges."
Europe's ETF market has lagged the explosive growth in the U.S., where assets account for more than $3 trillion of the $4.5 trillion global pie. MiFID II, aimed at creating transparency and rooting out conflicts of interest, offers hope that Europe could soon catch up.
A unified reporting system like that in the U.S. might further unleash the potential of the funds in Europe.

It may take time for investors to digest the newly reported information before we see any boom in European flows thanks to MiFID, Vanguard Group has said. Making things more cumbersome, trading venues will have to produce their own reports, says Adam Laird, head of ETF strategy at Lyxor Asset Management in London.
"This means a great number of data sources – it will be difficult, and at least time consuming, to put together a comprehensive data set on ETF traded volumes," Laird said. "The rules mean the data must be available, but that doesn't mean it will be simple to access. For a wealth manager and her risk managers, it could be difficult and laborious."
Some efforts are underway within the industry to create a unified record of ETF trades in one place. European regulators say they'll appoint a company to create a consolidated tape if a satisfactory one doesn't exist by 2020.
Data on ETF volumes will not be served on a "silver platter," said Antoine Lesne, head of SPDR ETF strategy & research for Europe, Middle East and Africa at State Street Global Advisors. "While the consolidated tape is still not an immediate reality, this trade reporting side of MiFID II is allowing an important step towards realizing it."
 
Europe's ETF market -- about two thirds of which is traded over-the-counter, or off public exchanges -- is likely to become even more fragmented. That's because of a boom in MiFID-compliant trading venues called systematic internalizers, or SIs, that threaten to lure a bulk of ETF flows and further splinter the market.
Goldman Sachs Group Inc., Bank of America Corp. and HSBC Holdings Plc are among the firms that have announced plans to trade ETFs through SIs. Jane Street Financial Ltd. has also said it will become an SI for ETFs.
There are some signs that more of Europe's ETF market will be brought into the light, despite the snags. Three firms make up more than a third of Europe's ETF trading, and they will all make use of a so-called a request-for-quote service, or RFQ, which allows institutions to find larger ETF trades.
The largest market makers for European ETFs have said that they will send most of their off-exchange trades to just three RFQ platforms -- Flow Traders NV, Jane Street and Optiver BV will all make extensive use of the venues. Any trader connected to those venues will get a clearer picture of what's going on in the market.

Bloomberg LP, the parent of Bloomberg News, operates an RFQ platform. 
The European ETF market would be better for all users if more trading went onto public exchanges, mirroring the market in the U.S., said Steve Palmer, a director of sales and trading at HSBC in London. Europe's market is dominated by financial companies trading behind the scenes.
"More on-exchange ETF trading could help the European retail segment to grow and catch up with the U.S.," Palmer said. "It would be especially fairer for the retail users as on-exchange allows for complete visibility and ability to participate."
— With assistance by Will Hadfield, and Rachel Evans
Before it's here, it's on the Bloomberg Terminal.
LEARN MORE