Wind chill of 30 degrees below possible in parts of region

Storm grows stronger as it grounds 3,600 flights around U.S.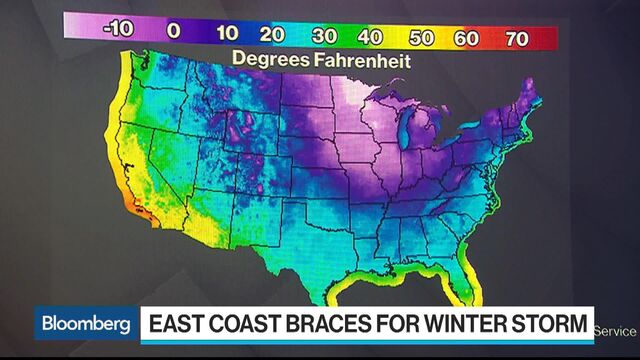 The storm that has whipped the U.S. Northeast with blinding snow is churning up high winds and pulling frigid air down from the Arctic, creating conditions that by Friday could make it feel as cold as 30 degrees below zero across parts of the region.
After the fast-moving weather system pushes off toward Nova Scotia, freezing temperatures building up across Canada will rush into the central and eastern parts of the U.S., said David Hamrick of the U.S. Weather Prediction Center in College Park, Maryland.
"It will be noteworthy," he said. "We will see records."

The storm's power has been increasing in a process called bombogenesis -- known to some as a bomb cyclone -- which occurs when a system's air pressure drops 24 millibars in 24 hours. In fact, the pressure plummeted by 21 millibars in just six hours overnight, said Bob Oravec, a senior branch forecaster at the Weather Prediction Center. "It is really going to town."
As of 4 p.m., Central Park had received 7.8 inches of snow, while Terryville on Long Island had got 15.2 inches, said Brian Hurley, a senior branch forecaster at the U.S. Weather Prediction Center in College Park, Maryland. Across Connecticut, Rhode Island and Massachusetts there were widespread reports of at least a foot.
Along the Massachusetts coast, wind gusts were reaching 75 miles per hour, Hurley said. As the system moved out over the Atlantic Ocean, streets and some homes in towns there were flooded, with Gloucester, Sandwich and Scituate among the hardest hit, according to the National Weather Service.
In Gloucester, a historic fishing village north of Boston, water from the Atlantic poured onto city streets, swamping cars up to their windows and trapping residents in homes.
Read More: Snow Boosts Late-Morning Power Prices Most in Almost Four Years
On Friday, high temperatures aren't expected to reach past 20 degrees Fahrenheit (minus-7 Celsius) from Washington on north. With severe wind gusts, Manhattan and Boston could feel as cold as minus-10 to minus-15. And on top of the mountain ridges west of large East Coast cities, it could feel closer to minus-30 or even minus-40.
"This is going to be some brutal air coming," said Alan Dunham, a weather service meteorologist in Taunton, Massachusetts. He predicted Boston might see a high of just 7 degrees on Saturday.
The storm grounded more than 3,600 flights around the U.S., according to the tracking service FlightAware. Almost all flights were canceled at New York's LaGuardia airport, and traffic at John F. Kennedy airport was temporarily suspended. Schools were closed from Philadelphia to Boston. Connecticut and Massachusetts told non-essential state workers to stay home and New Jersey shuttered state offices.

New Jersey declared emergencies in Cape May, Atlantic, Ocean and Monmouth counties and New York in New York City, Westchester County and on Long Island, where high winds brought on near whiteout conditions.
"Unless it's essential for you to be out and using the roads today, you should not be," New York Governor Andrew Cuomo said at a news conference.
Traffic was uncharacteristically light on the wind-tossed streets of Manhattan, and subways emptier than normal. The few people braving the outdoors were bundled up, just bits of their faces exposed. There were reports of 6 to 8 inches (20 centimeters) of snow across the city, Hamrick said. Long Island McArthur Airport in Islip reported 15 inches of accumulation.
"Basically, this storm is overperforming," Hamrick said.
Boston's Downtown Crossing, a pedestrian shopping zone, was a ghost town. The Massachusetts Retailers Association predicted stores would lose out on about $20 million in revenue Thursday and Friday.
Amazon.com Inc. closed several of its East Coast delivery hubs and said customers could expect shipment delays.
Winter-storm warnings covered parts of 12 eastern states while blizzard warnings blanket the U.S. coast from Virginia to Maine, including New Jersey, Long Island and Boston.

On Wednesday, the storm had dumped snow as far south as Florida. Charleston, South Carolina got 5.3 inches. In Brunswick, Georgia, large chunks of ice fell on commuters' cars Thursday from the old oak trees that frame the streets.
Click here to read about how propane may run short during cold
One bright spot might be the storm's speed, said Rob Carolan, a meteorologist at Hometown Forecast Services Inc. in Nashua, New Hampshire.
Unlike past historic blizzards that caused billions in damage from flooding and snowfall, this one may not stick around long enough.
"It is moving very, very quickly," he said. "It is in and out, which is good news."
— With assistance by Mary Schlangenstein, Jim Polson, Mark Chediak, Henry Goldman, Tina Davis, Reg Gale, Chris Martin, Brian Eckhouse, Anne Mostue, Rita Devlin, Maria Jose Valero, Spencer Soper, and Hari Govind
Before it's here, it's on the Bloomberg Terminal.
LEARN MORE